'The Hunger Games' Becomes First Female-Led #1 Film Since 'The Exorcist'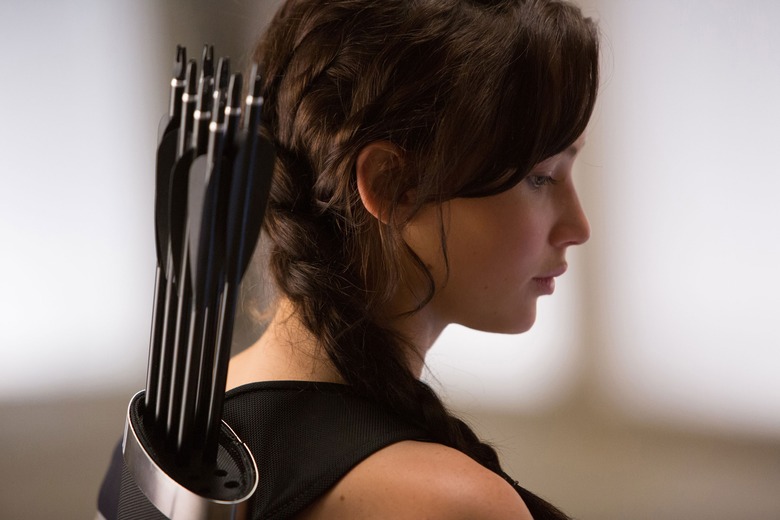 There aren't many who could beat Tony Stark in a fair fight, but Katniss Everdeen is one of them. The Hunger Games: Catching Fire has just become the highest-grossing release of 2013, narrowly beating out Iron Man 3. Which is pretty remarkable in itself, but is even more impressive when you consider that it's the first female-led film to come out on top since The Exorcist in 1973. Hit the jump for more on Katniss' box office supremacy.
Remarkable stat: The Hunger Games: Catching Fire is the first movie with a solo female lead to be the year's #1 film since The Exorcist.

— Mark Harris (@MarkHarrisNYC) January 10, 2014
While it's more common to see #1 films with female co-leads, as Harris takes pains to point out, even those are rare. Films like The Avengers, Harry Potter and the Deathly Hallows: Part 2, and Toy Story 3 (the last three winners) have significant female characters, but only in supporting roles; Hermione may be crucial to the Harry Potter saga, but no one thinks of her as the face of the franchise. To even find a top film with true female co-lead, I'd say you'd have to go back to 1997, when Titanic dominated.
Within the 2013 box office, however, Katniss has more company. Frozen was the year's fourth biggest film, and is proving surprisingly resilient. It topped the box office last week in its sixth weekend, becoming the first film since Avatar to achieve such a feat. And Gravity was the #7 film of the year despite being everything conventional Hollywood wisdom says won't make money — an original film starring a woman.
Looking ahead, it's tough to guess how 2014 will fare in comparison. There's a real chance the next Hunger Games, The Hunger Games: Mockingjay – Part 1 could clinch the top spot again, while Maleficent also has the potential to make big bucks. And although it remains to be seen whether The Hunger Games will finally convince studio execs that yes, female leads can sell, the fact that the Shailene Woodley-starrer Divergent will try to follow in its lucrative footsteps later this year is an encouraging sign.