San Diego Comic-Con Only Selling Single Day Passes For 2014 Event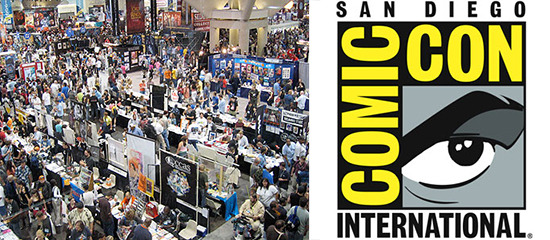 The calendar has turned, which means it's time to start anticipating (or worrying about) San Diego Comic-Con 2014. While the on-sale dates for passes and hotels have yet to be announced, one major change has been revealed and it's not necessarily good. If you'd like to attend all four days of the event, which takes place place July 24-27, you'll need to buy four individual passes and then — and only then — will you have the option to spend more for a Preview Night pass. Get the breakdown below.
The SDCC Blog was among the first to post about this info. Here's the official website, including this info:
New for 2014! Only single day badges will be sold. The Preview Night badge option may only be purchased if you buy a Thursday, Friday, Saturday, and Sunday badge. Preview Night is not a stand alone badge option. As in 2013, anyone who purchases a Thursday, Friday, Saturday, and Sunday badge will have the option of consolidating them into one 4-Day badge onsite.
Here are the prices per day:
BADGE TYPE
Adult
Junior**
U.S. Military /
Senior**
Preview Night
$35.00
$16.00
$16.00
Thursday
$45.00
$23.00
$23.00
Friday
$45.00
$23.00
$23.00
Saturday
$45.00
$23.00
$23.00
Sunday
$30.00
$15.00
$15.00
Also of interest, to participate in the pre-registration, fans will have to have their badge from 2013:
Only those that have purchased a Comic-Con 2013 4-Day attendee or 1-Day attendee badge, have a valid Member ID, and retain their actual Comic-Con 2013 badge will be eligible to participate in 2014 badge preregistration. Professionals, guests of professionals, exhibitors, exhibitor purchased attendee badges, volunteers, staff, and press will not be allowed to participate in badge preregistration. Open online registration for the general public and all categories listed above will occur at a later date. If you did not attend Comic-Con 2013, you may participate in open online registration later this year.
However, since that's been sprung on everyone this year, there's a post-script that says for 2014 only they'll let that part slide. Moving ahead though, everyone will need to hold onto their badges. Read more at the above link.
Besides the obvious annoyance of adding four things to your cart instead of just one, the price increased $25 from last year if you include preview night. I remember when you could get all four days plus preview night for under $100. The good old days.
UPDATE – It'll actually just be one click.
Keep an eye out for the pre-registration announcement in the coming weeks.