Sequel Bits: 'Jurassic World', 'The Purge 2', 'He Got Game', 'True Blood'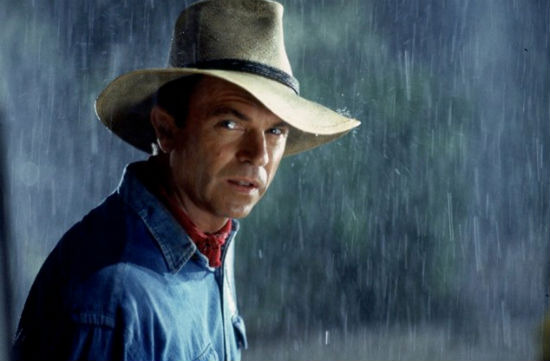 Jurassic World has been picking up a pretty great cast, but one person we shouldn't expect to see in it is original Jurassic Park star Sam Neill. Also after the jump:
The website for Sin City: A Dame to Kill For has launched
Zach Gilford slips a few plot details about The Purge 2
Uwe Boll and Brendan Fletcher will go on another Rampage
Spike Lee and Ray Allen have discussed a He Got Game sequel
Sarah Jessica Parker thinks SATC has "one last chapter to tell"
Stephen Moyer hints at a True Blood movie sequel, maybe
The Purge 2 has so far been shrouded in mystery, even as the cast fills up with TV and indie film favorites. But now, thanks to star Zach Gilford, we have a much better idea of what to expect.
[...] I thought they had a really great way to do a sequel because the first one took place in an upscale suburb with what happens to a family there when their security system doesn't work. With this one, there's none of the same characters, but it's the same day of the year and it takes place in the city where there are no security systems and it's just like a war zone where people are just trying to survive. So I thought it was pretty interesting to take that concept and to look at it from a different angle.
Sounds like an interesting idea, as long as director James DeMonaco doesn't just let it devolve into a repetitive free-for-all. The Purge 2 opens June 20. [Fangoria]
Uwe Boll is going on another Rampage. The German filmmaker has begun production on Rampage 2, which once again stars Brendan Fletcher. In the new film, Fletcher's character takes over a TV station and holds several people hostage — not because he wants money, but because he wants to wake up humanity.
The shoot will take place over six days in Maple Ridge, British Columbia. Lochlyn Munro, Mike Dopud, and Michaela Ross are also starring. [THR]
So far, the Jurassic World cast consists solely of franchise newcomers like Chris Pratt, Josh Brolin, and Bryce Dallas Howard. And according to original Jurassic Park star Sam Neill, it's likely to stay that way.
"I think there's a whole new cast and a whole new look at things, and I think that's great," said Neill. "As I said, I'd never say no, but I wish them... well, I'm sure it's going to be great, but they don't need me."
Neill's comments may not apply to the series' other stars, and they don't rule out the possibility of a last-minute cameo. Still, it does sound like the focus will be squarely on the new characters. Sorry, Jeff Goldblum fans. Jurassic World lands June 12, 2015. [Examiner via Bleeding Cool]
Spike Lee has been thinking about a sequel to 1998's He Got Game, according to star Ray Allen. The Miami Heat guard revealed his conversations with Lee in a recent interview.
Sequels to most movies are always fluff and not as good as the first. But it's something we've been talking about for the last couple months. If we get a really good story line and are able to bring everybody back, then it would be something worth doing.
Of course, that's pretty much the same vaguely optimistic answer every actor gives in response to any sequel question. So while Lee may have considered a He Got Game 2, it doesn't seem likely to happen anytime soon. [ESPN via HitFix]
Sex and the City 2 didn't have many fans, not even among actual Sex and the City fans. Yet Sarah Jessica Parker thinks there may be life left in the franchise still. "A part of me thinks there is one last chapter to tell," she said to InStyle. "But timing is a peculiar thing. It isn't a decision that can wait forever. I don't want to have to wear muumuus!"
She's got at least one supporter in co-star Kristin Davis, who said last month that it would be "very exciting" to make another film. But another franchise lead, Cynthia Nixon, may beg to differ. She told press in 2012 that it was time to "let it go." [via Celebitchy]
In kinda-related news, fellow HBO series True Blood might be considering going the Sex and the City route. Although the vamp drama is set to conclude this summer, star Stephen Moyer hinted that there could be more True Blood coming in 2016. Here's the response he gave to an interview when asked about his future plans.
What are you going to do in the summer of 2015? I'm not sure about the summer of 2015, but if things go the way I'm hoping there will be something to watch in the summer of 2016. We'll have an announcement about that... soonish.
He doesn't explicitly say that True Blood is heading for a movie sequel, but it does sound like he's hoping the show will live on, doesn't it? What say you, True Blood watchers — do you want more, or is it time for Moyer, like Nixon, to let it go? [Examiner via Screen Crush]