Cool Stuff: 'Indiana Jones' Vinylmations From Disney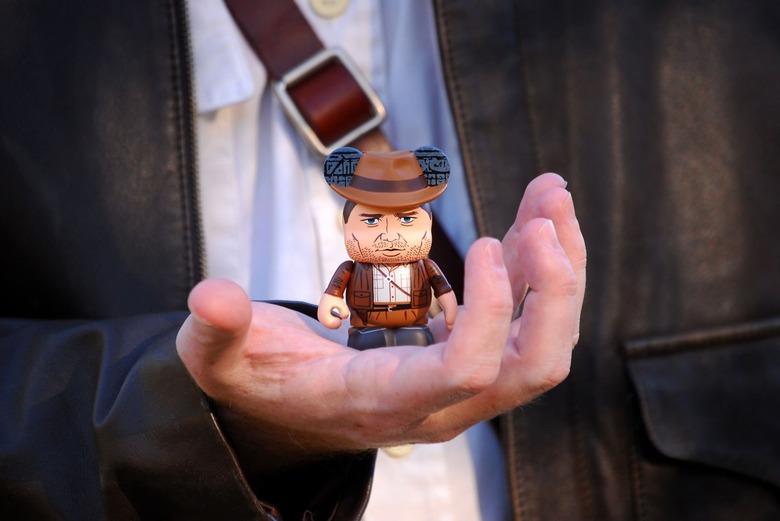 Well before Disney bought Lucasfilm in 2012, the two companies had a great relationship. Disney Parks were full of Lucasfilm properties, including Star Wars and Indiana Jones, and that's only become more prominent under the recent deal. The latest Disney/Lucasfilm collaboration is a brand new set of Indiana Jones Vinylmations.
Vinylmations are an exclusive Disney collectible featuring various characters on 3 inch bodies shaped like Mickey Mouse. They started with Disney characters, but have since gone all over the map, to The Avengers, Star Wars, artistic designs and more. The Indy ones were released Friday at the Disney Store and park locations. They are just beyond cool. Check them out below.
Thanks to The Fire Wire for these images of the Indiana Jones set.
You can buy these online at the Disney Store, or at D Street locations at Walt Disney World and Disneyland.
As you can tell, these are all from Raiders of the Lost Ark, which suggests we'll see some additional sets in the future (that "Series One" on the box also suggests that). Also of note, these are blind box items. You buy a closed box and don't know who you are going to get. For a few extra dollars, you can get that set with Indy in wraps paired with another. Plus the Golden Idol is the "chaser," meaning there's only one hidden in each retail box.
Collecting Vinylmations is a deep dark hole but if you are going to start, this is a great place. What do you think?