'The Railway Man' U.S. Trailer: Colin Firth Faces His Torturer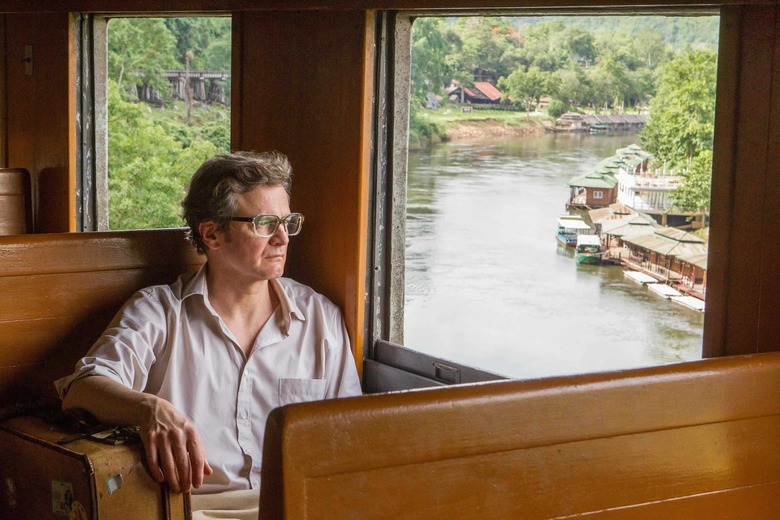 What would you do if you had the opportunity to face the individual who made your life a living hell, half a lifetime ago? That's the question Colin Firth faces in The Railway Man, playing a World War II veteran who, decades later, is still haunted by the torment he suffered as a prisoner of war in Japan.
With the help of his loving wife (Nicole Kidman) and a fellow vet (Stellan Skarsgård), Eric manages to track down and have his say with the Japanese soldier (Hiroyuki Sanada) who tortured him. Initially, it looks like he plans to get his revenge — but as the two men face each other, Lomax finds himself reacting in more complicated ways. Watch the trailer after the jump.
Though the premise seems as cinematic as they come, The Railway Man is in fact based on a true story. And based on what we've heard of it, it seems like a rich and powerful one. It's too bad, then, that the trailer makes it look uplifting in a generic Hollywood way. On the plus side, with this cast, we can expect some strong performances at the very least. Jeremy Irvine, Tanroh Ishida, and Sam Reid play younger versions of the three men.
The Railway Man has yet to set a U.S. release date, but Brits can see the film in theaters now. Jonathan Teplitzky directed.
Based on his best-selling memoir, The Railway Man tells the extraordinary and epic true story of Eric Lomax, a British Army officer who is tormented as a prisoner of war at a Japanese labour camp during World War II. Decades later, Lomax discovers that the Japanese interpreter he holds responsible for much of his treatment is still alive and sets out to confront him, and his haunting past. Directed by Jonathan Teplitzky, and starring Academy Award-winner Colin Firth, Jeremy Irvine, and Academy Award-winner Nicole Kidman, the film is a powerful tale of survival, love and redemption.