Star Wars Bits: 'Star Wars Rebels', 'The Clone Wars', And The Top 10 Moments Of 2013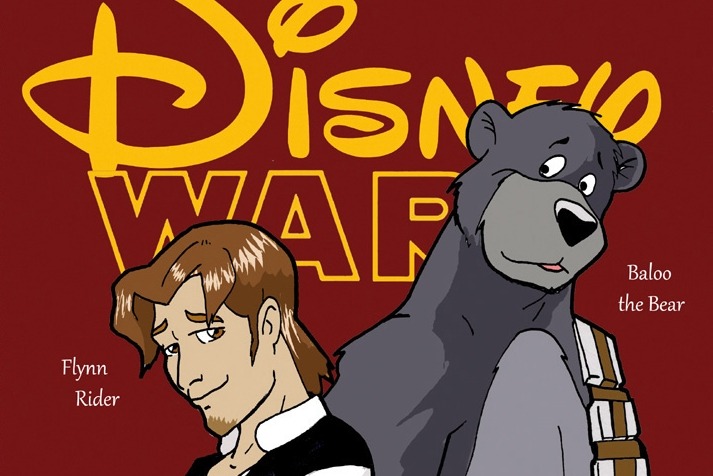 No, the header image isn't from an impending Star Wars-Disney crossover — it's just a fun bit of fan art. You can see the full image, plus the artist's takes on Darth Vader and Princess Leia, after the jump. Also:
Clone Wars' Darth Maul will get a proper sendoff — in comics.
Are these the "top 10 Star Wars moments of 2013"?
Watch a short film by a pre-Star Wars George Lucas.
Peter Mayhew has a bunch of awesome old set photos.
See baddies in action in a new Star Wars Rebels still.
Darth Maul will be at the center of a four-part limited series titled Darth Maul: Son of Dathomir, based on never-used screenplays originally written for Season 6. "The designs you will see, the plot lines, and character development in these comic books are all coming directly from the TV production," explained show head Dave Filoni on Facebook.
However, Filoni stressed that the comics shouldn't be seen as a finale to the TV series as a whole.
[...] I'd like to make clear that this storyline does not represent The Clone Wars series finale. I've seen some confusion about that online and want to set the record straight. There are additional Clone Wars episodes on the way and one arc in particular marks the series finale in my mind. We'll have fun discussing that in the not too distant future.
How the additional TV episodes will be released has not been revealed. Dark Horse Comics will publish the first issue of Darth Maul: Son of Dathomir in May. [Newsarama]
There was plenty of Star Wars news in 2013, as evidenced by the very fact that Star Wars Bits is a thing. But what were the biggest Star Wars moments of the year? The official site StarWars.com has some thoughts. Here are their favorite milestones and announcements from 2013:
10. Star Wars: The Clone Wars Airs 100th Episode
9. Star Wars Instagram and Tumblr Launch
8. Star Wars Fans Join Star Wars: Episode VII Team
7. Star Wars: The Clone Wars Wins Two Emmys
6. Spinoff Films Announced
5. John Williams Confirmed to Score Star Wars: Episode VII
4. Star Wars: Battlefront Returns
3. Star Wars Celebration Europe
2. Star Wars Rebels Announced
1. J.J. Abrams Named Star Wars: Episode VII Director
What say you? Should the spinoff films rank higher? Is the Instagram account even worth a mention? Tell us your own rankings in the comments. [StarWars.com]
For the past few decades, "George Lucas" has been synonymous with "Star Wars." But long before he became known as the creator of Luke, Leia, Han, and Darth, he was just a USC film student honing his craft.
One of his projects from that period is Freiheit (the German word for liberty or freedom), a 1966 short depicting a young man (future Grease director Randal Kleiser) running toward the Berlin border only to get shot to death. Watch it in its entirety below.
Speaking of old stuff, Chewbacca actor Peter Mayhew has posted tons of behind-the-scenes photos from the shooting of the original trilogy. The whole collection is worth checking out, especially if you're a sucker for goofy set photos from serious films, like I am. But if you'd like a preview, here are a few of my favorites.
We all go a little crazy, sometimes. pic.twitter.com/TJpxRk9YaG

— Peter Mayhew Foundation (@TheWookieeRoars) January 10, 2014
naptime! pic.twitter.com/Hb0ENE5Mkv

— Peter Mayhew Foundation (@TheWookieeRoars) January 10, 2014
You know Kenny as R2D2, but he was also Paploo, the Ewok who stole the Imperial Speeder Bike. pic.twitter.com/85mMEvO0Of

— Peter Mayhew Foundation (@TheWookieeRoars) January 10, 2014
Anthony getting relief from the blazing sun. pic.twitter.com/JLQDdjicCx

— Peter Mayhew Foundation (@TheWookieeRoars) January 10, 2014
Whose a cute little Sith Lord? You are, Yes you are, now give us a kiss!!! pic.twitter.com/F51AuCt6xI

— Peter Mayhew Foundation (@TheWookieeRoars) January 10, 2014
Kenny, Carrie, Mark and some tall fellow... @HamillHimself @CarrieFFisher pic.twitter.com/1LrYSp8JtC

— Peter Mayhew Foundation (@TheWookieeRoars) January 8, 2014
If you liked those, visit Mayhew's Twitter page to see many, many more. [via Laughing Squid]
Just because the years between Episode III and Episode IV were never depicted in a movie, doesn't mean the galaxy was quiet during that time. Disney XD's upcoming animated series Star Wars Rebels will cover the rise of the Rebel Alliance during that period, and as this new image indicates the heroes had plenty of nastiness to deal with along the way.
At the center of the image is the Inquisitor, a villainous sort who's been assigned by the Emperor to hunt down any remaining Jedi. It looks like he has some backup in the form of these Stormtroopers, though considering how bad their aim is, they may not end up being all that useful.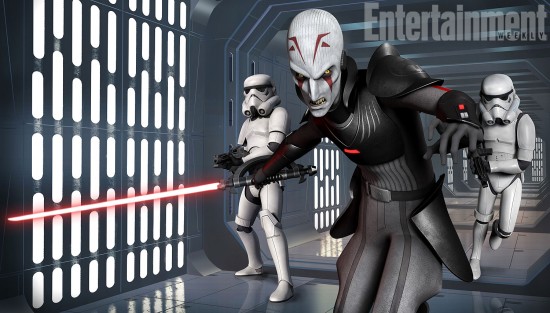 Star Wars Rebels premieres this fall with a one-hour special on the Disney Channel before moving to Disney XD. [EW]
And finally, let's end where we began. Deviantart user Inspector97 is the artist behind the header image you saw above, as well as this other piece depicting Maleficent as Darth Vader and Belle as Princess Leia.
A Star Wars movie populated with Disney characters isn't really something I ever want to see happen, but the casting here is pretty spot-on. Flynn Rider as Han Solo? But of course. [via Disney Star Wars Tumblr]