'A Girl Walks Home Alone At Night' Teaser: Meet Iran's First Vampire Western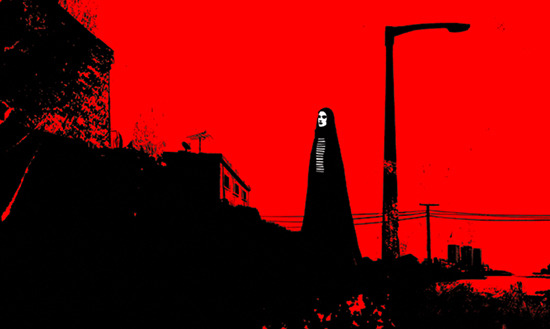 As things tend to go in Iranian film, we don't hear about a lot of westerns, and probably fewer films that involve vampires. So when the claim can be made that A Girl Walks Home Alone at Night is the first Iranian vampire western, and one directed by a woman, to boot, there's plenty reason to be curious. The film is Ana Lily Amirpour's debut as a director, and will premiere at the Sundance Film Festival later this month.
Oh, and the film comes from SpectreVision, which is the relatively new genre-oriented company created by Elijah Wood, Daniel Noah and Josh C. Waller.
Check out a brief teaser and a striking poster, below.
That super-brief footage makes me think of a horror-tinged triangulation of Lynch, Maddin, and Jarmusch. It's really too brief a tease, but it does leave me wanting to see more.
A Girl Walks Home Alone at Night has its premiere showing on January 19 at Sundance. Indiewire had the teaser. AICN offers up the poster; that link will also lead you to a page or two of a related comic book.
Strange things are afoot in Bad City. The Iranian ghost town, home to prostitutes, junkies, pimps and other sordid souls, is a bastion of depravity and hopelessness where a lonely vampire stalks its most unsavory inhabitants. But when boy meets girl, an unusual love story begins to blossom... blood red.