'Don Peyote' Trailer: Anne Hathaway And Josh Duhamel Watch Dan Fogler Go Nuts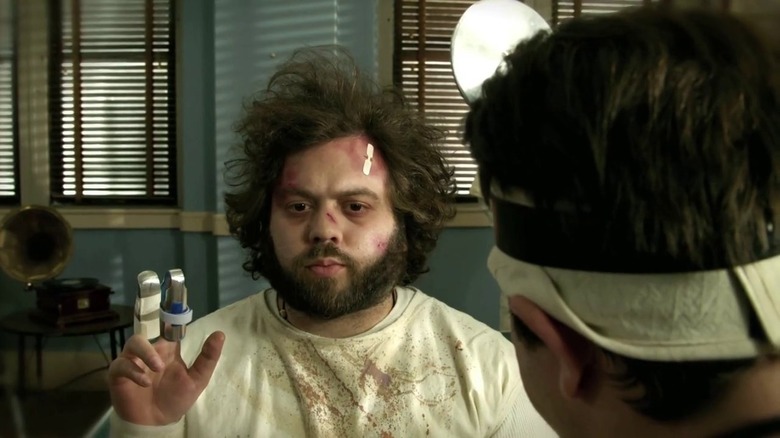 There was a moment around the turn of the decade when Dan Fogler seemed ubiquitous, popping up in everything from Fanboys to Kung Fu Panda to Take Me Home Tonight. But for the past couple of years, he's kept a somewhat lower profile with roles on TV shows like Hannibal and indies such as Scenic Route and Europa Report.
His latest appearance is an indie, too, but this time around he's much more involved. He's the co-writer and co-director (with Michael Canzoniero) and also the star of Don Peyote, a trippy comedy about an ordinary man who either achieves enlightenment or goes nuts, depending on how you want to look at it. Anne Hathaway, Abel Ferrara, Jay Baruchel, Josh Duhamel, and Wallace Shawn co-star, or at least cameo. Watch the first trailer after the jump.
Well, it's certainly weird-looking, as befits a movie titled Don Peyote. What's less clear is everything else. What's the movie about? What's going on with Fogler's character? How did Anne Hathaway end up here? What exactly is the point of all this? And will any of it be good? The official synopsis, from the film's Facebook page, offers a few clues.
Warren Allman, is your typical innocent oblivious everyman, who is sent on the existential path of enlightenment. He deals with everything from over population to our economic decline to our defunct spirituality.
Warren is transformed into the shaman/prophet Don Peyote and sheds light on alternative lifestyles that work but have been buried by the decision makers to the detriment of our civilization. The movie takes a hard look at the current plight of humanity and begs of us all to take a second look at our own contribution. it makes us question which is better: maintaining the status quo or maintaining harmony with humankind, nature, the earth, and the stars.
Get all the answers to your questions when Don Peyote opens sometime this May.