POTD: Jessica Chastain Takes Aim As Merida From 'Brave'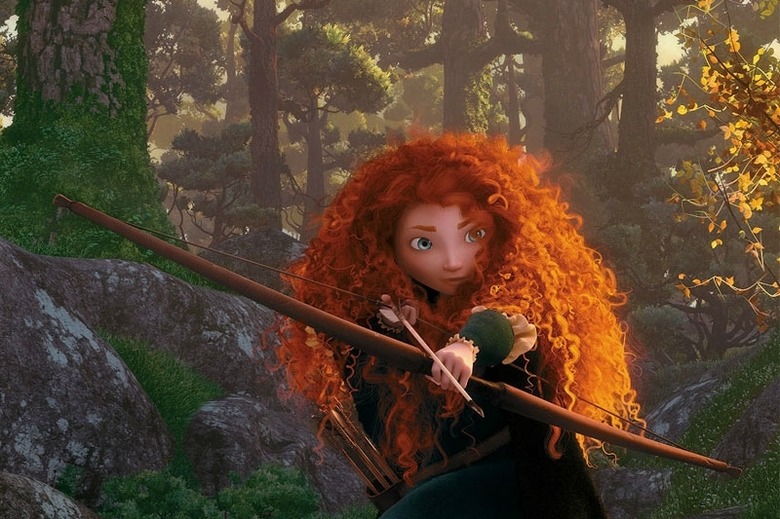 The odds of Disney remaking Brave as a live-action movie in the near future are basically zip, and thank God for that. But if such a thing came to pass, they could certainly do worse than cast Jessica Chastain in the lead role. For now, though, the Zero Dark Thirty actress will have to settle for playing the Scottish princess in a photoshoot.
The portrait of Chastain as Merida is the latest installment of Disney's ongoing Dream Portraits ad series for their parks. It's something of a break from tradition, in that Merida is the first original Pixar character to get her own portrait. Check it out — along with seven years' worth of others — after the jump.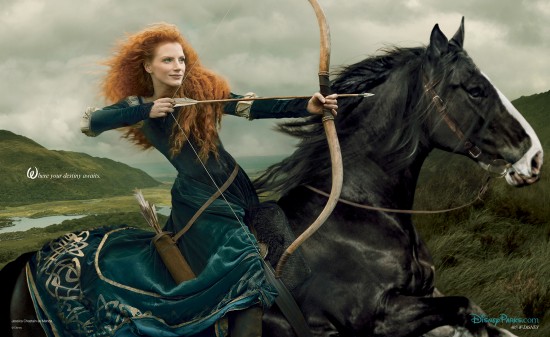 If Disney Dream Portraits are being done for Pixar characters now, that opens up a whole bunch of new options. The Incredibles may be a bit too sci-fi to fit into the campaign's fairy tale feel, but the colorful world of Up could be a fun variation, as could Woody and Buzz of the Toy Story series.
Meanwhile, Disney movies that have yet to get portraits, but that probably will soon (we're just guessing) include Mulan, Tarzan, Hercules, and The Jungle Book. And can the Frozen sisters be far behind?
The first Dream Portraits series first launched in 2007, and there have been about two dozen to date featuring such stars as Beyonce (Alice in Wonderland), Scarlett Johansson (Cinderella), Jeff Bridges (the Beast), Julianne Moore (Ariel), and Tina Fey (Tinkerbell). We've compiled all of them in the gallery below. How do you think Chastain's stacks up against the others?