'Fading Gigolo' Trailer: John Turturro Brings Sexual Magic To The Lonely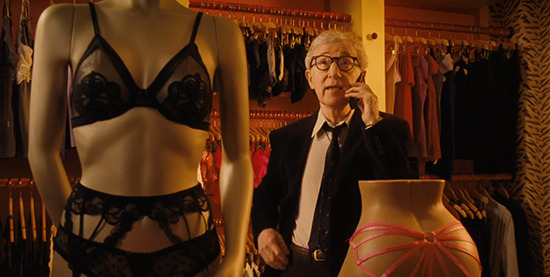 Is it weird to watch Woody Allen working as a self-styled pimp, given his own, er, unusual sexual history? Maybe so, and perhaps that just makes this new trailer for John Turturro's film Fading Gigolo more, er, striking. I keep waiting for the whole thing to be revealed as an extended dream sequence, given that the plot has the Normal Guy played by Turturro turning into a $1000-per night gigolo thanks to the efforts of his pal, played by Allen. We're given an intro via two gorgeous women (Sharon Stone and Sofía Vergara) who want a threesome, with Vergara even offering up that "a woman is meant to be looked at." Seriously.
Lest you think this is all just a self-serving wish-fulfillment act from Turturro, note that The Playlist called the film "odd, uneven and yet engaging" after its premiere at TIFF, and noted that the best parts of the picture turn up via Turturro's relationship with a widow played by Vanessa Paradis.  That makes it sound like some reality does tap the main character on the shoulder sooner or later, which may be good to know. in the meantime, take in the new trailer below.
Fading Gigolo opens on April 18.
Fioravante decides to become a professional Don Juan as a way of making money to help his cash-strapped friend, Murray. With Murray acting as his "manager", the duo quickly finds themselves caught up in the crosscurrents of love and money.