First Look: Ben Kingsley's Mandarin Returns In Marvel One-Shot 'All Hail The King'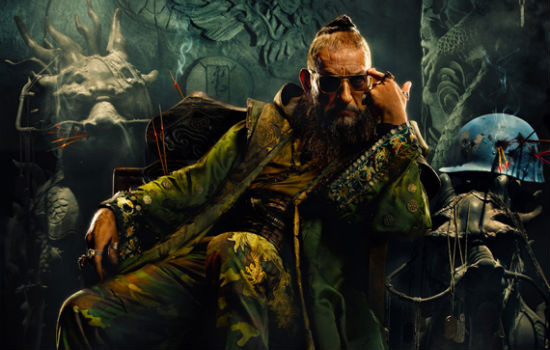 Love him or hate him, Ben Kingsley's Mandarin was certainly one of the most surprising villains we've had in the Marvel Cinematic Universe so far. Now, the latest Marvel One-Shot, "All Hail the King," revisits the character to find out exactly what happened to him after the events of Iron Man 3.
Iron Man 3 scribe Drew Pearce wrote and directed the new film, which features the return of Kingsley along with new characters played by Scoot McNairy (Argo) and Crystal the monkey (of Hangover fame). The first images and details have just been revealed, and you can dig in after the jump. Be warned that major spoilers for Iron Man 3 follow.
Yes, enjoying. Pearce explains that as a self-involved actor, this kind of fame is exactly what Trevor has wanted all along.
When we find Trevor at the beginning of this short, other than Tony, he's the only one out of Iron Man 3 to get what he wanted. And even though he was arrested and beat up and had guns pointed at him, now he's the celebrity that he always wanted to be and he loves it. He absolutely loves it. He is living a somewhat curtailed version of the celebrity life, but he's also leading arguably a better life than he did when he was living with, like, four other actors at the age of 52 in some bedsit in the south of London. That's the other fun thing about the starting point is that when we meet Trevor in the short, Trevor won. The Mandarin didn't, but Trevor in his own way was victorious.
The One-Shot kicks off as a documentary filmmaker (McNairy) gets Trevor to agree to an interview about Tony Stark's latest adventures. His goal is to explore Trevor's past as well as to find out whether the Ten Rings are actually out there looking for Trevor. Unfortunately for this hapless thespian, it sounds like they are. (Indeed, if an earlier rumor is correct, there may even be a real Mandarin out to get him.) Pearce explains:
Imagine a real terrorist organization whose beliefs were long held and religious for thousands of years, and imagine a drunk, British actor coming along and essentially telling the world that he's the face of your organization. I think they would be right to be quite angry.
As for what happens next, well, you'll just have to watch the film to find out. But Pearce does suggest, in vague terms, that "All Hail the King" could help set up the next Iron Man movie. "By the end of the short, there are definitely a lot of exciting other places that are brought up in it that could then go in the Marvel universe," he says. "You know, whether that's an Iron Man movie or another one going into Phase Two or Three."
"All Hail the King" runs 14 minutes long and will be included as a bonus feature on the Thor: The Dark World Blu-ray come February 25. See the first stills below: