Gerard Butler Boards 'Point Break'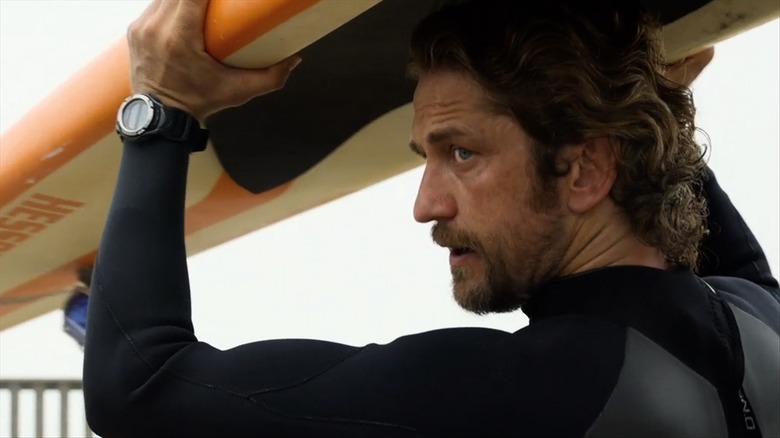 Whatever surfing skills Gerard Butler picked up on the set of 2012's Chasing Mavericks are about to come in real handy. The Scottish actor is in final negotiations to board Alcon Entertainment's Point Break remake as Bodhi, the role originated by the late Patrick Swayze in Katheryn Bigelow's 1991 film. Hit the jump for more information, including details on how this version will differ from the original.
But Bodhi remains as much a thrill-seeker as ever, as he "seeks nirvana through the conquest of a series of athletic feats such as surfing 100-foot waves," according to the trade. Also unchanged is the basic plot of the movie, which center on an FBI agent named Johnny Utah who tries to infiltrate a criminal ring. As in the classic movie, it's Bodhi who first warms to him and decides to bring him into that world. The role of Utah, played to dim-witted perfection by Keanu Reeves in the earlier film, has not yet been cast. Whether or not the actor hired to play the role will get to fire his gun in the air and go "Auugh!" is yet to be revealed.
Butler is coming off of the more successful of last year's two "Die Hard in the White House" movies, Olympus Has Fallen, and will be heard later this year in How to Train Your Dragon 2. Although he won't be seen much onscreen in 2014, he'll be keeping busy. He's due to shoot Alex Proyas' Gods of Egypt in March, and the Olympus sequel London Has Fallen toward the end of the year. Point Break will be sandwiched in between the two films as it's aiming for a summer start.