First Look: Martin Freeman Looks Minnesota Not-So-Nice On FX's 'Fargo'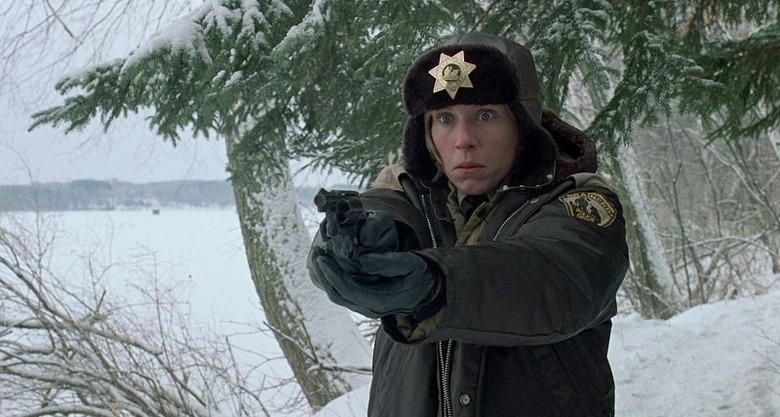 The Coen Brothers don't have a new film out in 2014, but their presence will be felt on the pop culture landscape all the same. Among the intriguing oddities being offered up by the TV gods this year is Fargo, an FX limited series based on the duo's 1996 hit.
Technically speaking, the new Fargo is neither a remake nor a sequel for the first one. What it shares with the original is the cold northern setting and the "Minnesota nice" tone. At the center of this version is insurance salesman Lester Nygaard (played by the ubiquitous Martin Freeman), a sort of updated take on William H. Macy's Jerry Lundegaard. Hit the jump to see him and some other new characters in the first stills from the show.
Although the series clearly takes inspiration from the movie, it'll feature new characters, a new setting, and a new plot. The story is set in Bemidji, Minnesota (which, like Fargo and Brainerd, is a real place), and follows Lester's ill-fated attempt to change his life after he crosses paths with the mysterious Lorne Malvo (Billy Bob Thornton).
Other key players include Colin Hanks as Duluth Police Deputy Gus Grimly, Allison Tolman and Bob Odenkirk as a pair of Bemidji cops, Kate Walsh as a former stripper, Oliver Platt as the Supermarket King of Minnesota, Glenn Howerton as an ambitious personal trainer, and Russell Harvard and Adam Goldberg as members of the Fargo Crime Syndicate.
FX's Fargo isn't the first attempt to adapt the Coens' crime classic for the small screen. In 2003, there was a failed attempt to build a series starring Edie Falco. One huge difference between that version and this one, however, is that this one has the brothers' blessing. The Coens are executive producing the series, which was written by Noah Hawley. Adam Bernstein (30 Rock) is directing the first episode.
No premiere date has been set, but look for the ten-episode run to kick off sometime this spring.