Pixar Short 'Party Central' To Play With 'Muppets Most Wanted,' Plus New Viral Video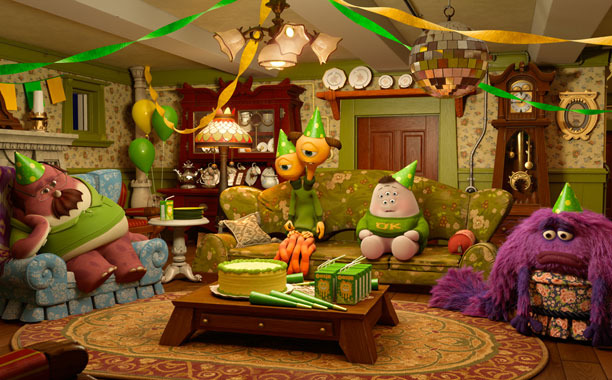 The next Disney/Pixar short film, Party Central, debuted at this summer's D23 Expo. Set in the Monsters University universe, it follows the Oozma Kappa clan as they throw a frat party. But no one shows up, and they remedy the situation by using some crazy tactics to steal a rival party.
Originally, the short was going to debut with The Good Dinosaur, but as that film has now been pushed back until 2015, Party Central (above) will now premiere with March's Muppets Most Wanted.
Speaking of that film, you can watch a new viral video from it, jokingly showing how excited the Internet is for the next Muppet movie.
Entertainment Weekly revealed the news of Party Central pairing with Muppets Most Wanted. You can head there to read a bit more about the film's production.
And here's the Muppets Most Wanted video:
Muppets Most Wanted, featuring the hilarious Party Central, opens March 21. Here's the official plot description:
Disney's "Muppets Most Wanted" takes the entire Muppets gang on a global tour, selling out grand theaters in some of Europe's most exciting destinations, including Berlin, Madrid, Dublin and London. But mayhem follows the Muppets overseas, as they find themselves unwittingly entangled in an international crime caper headed by Constantine—the World's Number One Criminal and a dead ringer for Kermit the Frog—and his dastardly sidekick Dominic, aka Number Two, portrayed by Ricky Gervais. The film stars Tina Fey as Nadya, a feisty prison guard, and Ty Burrell as Interpol agent Jean Pierre Napoleon.
Disney's "Muppets Most Wanted" is directed by James Bobin and produced by David Hoberman and Todd Lieberman. Bobin wrote the screenplay with Nicholas Stoller, who is also executive producer with John G. Scotti. Featuring music from Academy Award®-winning songwriter Bret McKenzie, "Muppets Most Wanted" hits the big screen March 21, 2014.