Louis C.K. Releasing His 1998 Movie Starring Steve Carell And Amy Poehler For $5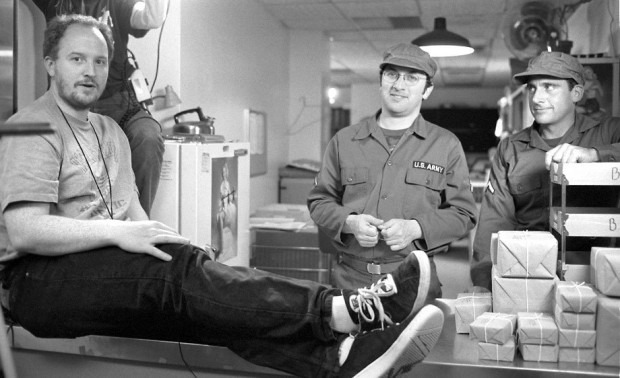 Everyone knows Louis C.K. as a brilliant comedian. Fewer people know him as a talented director. C.K. had been in the entertainment industry for decades before finally hitting the mainstream with his amazing stand-up and his FX TV show Louie. He wrote on several popular TV shows and directed short films for a long time, culminating in the 2001 cult film Pootie Tang.
In 1998 C.K. wrote and directed his first film called Tomorrow Night, which premiered at the Sundance Film Festival. It starred then-newcomers Steve Carell, Amy Poehler, JB Smoove, Wanda Sykes and many others, but didn't get picked up for distribution. This February, C.K. is finally going to release the film on his official website, for $5. Read more and check out the trailer below.
C.K. had talked about releasing Tomorrow Night a couple years ago, but we hadn't heard any details in a long time. Last night, he brought it up on The Tonight Show With Jay Leno. Thanks to ScreenCrush for the heads up and Scott Jones for the above image.
Here's the clip of the announcement and from the movie.
Here's the quote:
I have a movie that I made in '98, which is 15 years ago now, it's the first movie that I made. It's called 'Tomorrow Night' and it went to Sundance and all this stuff, but it never got released, ever. And I'm putting it out for $5 on my web site. It's a big, funny movie. And you can see it starting in February.
C.K.'s website is louisck.net. I love that he's using it as kind of a rebuttal to the way the industry usually works, releasing things on his own for low prices, and reaping all the benefits himself. Through the site, Tomorrow Night could go from shelved movie to relevant success overnight. Will you be downloading?
UPDATE: The Film Stage found the trailer.