George Miller Wants To Make A Small Film Next, Not 'Man Of Steel 2'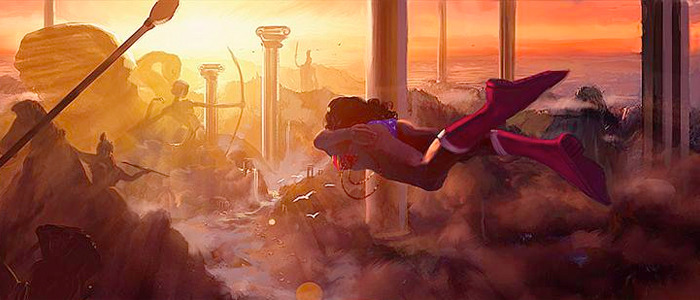 The next film from Mad Max director George Miller probably won't be a huge spectacle, and he's almost certainly not making a Man of Steel sequel.
It's been a strange journey for George Miller in the past decade. Work on Mad Max: Fury Road began about fifteen years ago, and when that film was delayed he turned to Justice League, casting and designing the film (see the concept art above) and getting it to a point where production could begin. Then the economic situation changed in Australia and the writers' strike happened. Justice League died and Miller went back to Happy Feet Two, and to Mad Max, which was finally released to great acclaim this year.
There were rumors that Miller, who grew up on DC Comics, might go back to a DC movie, with reports pegging him as a possible Man of Steel 2 director. But now Miller says his next film will be a small one even as he pushes aside those Man of Steel reports.
Speaking to Digital Spy, Miller seems to be intent on making his next film something that is very different from Fury Road, and presumably a movie that will not take fifteen years to create.
I hope the next film I make is a very, very small film without any special effects and not many stunts.
So what does that mean for those Man of Steel 2 rumors? Seems like there might have been some exploratory effort, but it hasn't led up to anything.
There's been some of that [talk about Man of Steel 2] in the mix, but it's, I'd say, probably not true. I was going to do a Justice League movie that fell through in 2009, not a fault of anybody's but a new Australian government, which wasn't agile enough with the rebates. They were indecisive, and there was a writer's strike, and the planets didn't align for that one. But i've always been interested — basically I work in mythology and the superhero movies are basically new incarnations of the Greek and Roman mythologies, so it's always something I'm interested in.
Miller directing a DC Comics film would probably be great, and I'd be happy to watch it. But let's face it: the director is not getting any younger. He's probably one of the most fit and brisk 70 year old guys I've ever met, but I'd be surprised to hear that he really wants to commit three to four years to a movie he can't really control.
Here's the video interview, from Digital Spy.