The 10 Best Moments Of Jerry Seinfeld's AMA, From 'Man Of Steel' Talk To New Larry David Project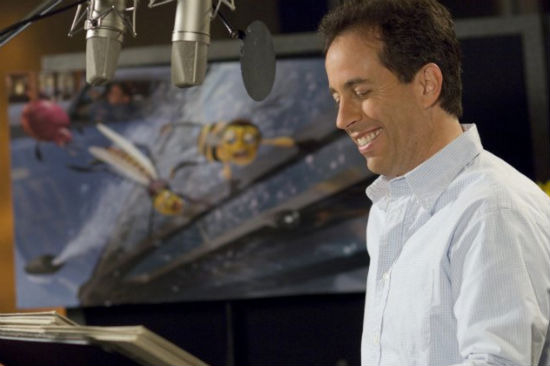 Jerry Seinfeld jumped on Reddit Monday to do a very extensive Ask Me Anything in which he covered a huge gamut of topics. He talked about a major problem he had with Man of Steel, working on a new project with Larry David, his favorite Seinfeld episodes, quotes, retrospective feelings on the finale, Bee Movie and more. Below, read the ten best moments from the Seinfeld AMA.
Here are the ten best quotes, in no particular order.
1. Talking about a Seinfeld episode that never happened:
Yes. There was one episode where Jerry bought a handgun. And we started making it and stopped in the middle and said "this doesn't work." We did the read-through and then cancelled it. A lot of other stuff happened, but trying to make that funny ended up being no fun.
2. On a new project with Larry David:
We never obsess over anything that isn't mundane. Most recent was intentional mumbling. We wrote this script for this thing that you will eventually see but I can't reveal what it is at this time. All I can do is tell you is that it's big, huge, gigantic. Even bigger than that Amazon package.
3. His favorite Seinfeld episodes:
I'll give you two. One was the The Rye, because we got to shoot that at Paramount Studios in LA which was the first time that we thought "wow this is almost like a real TV show." We hadn't felt like a real TV show, the early years of the TV show were not successful. We had this idea of a Marble Rye and we had to shoot it in an outdoor set, and this was a very expensive thing to do, it's like a movie place there at Paramount in LA. Their standing set for New York looks exactly like it, and we thought "this is where the ADULT shows are, the REAL shows like Murphy Brown." We felt like we were a weird little orphan show. So that was a big deal for us.
And that was very exciting, we were up all night shooting it on the set of paramount and it was very exciting.
The other one that was really fun was in the episode The Pothole, Newman drives his mailtruck over a sewing machine and his mail truck burst into flames. It was really fun to shoot, and it was fun to set Newman on fire. And he screamed "oh the humanity" like from the Hindenberg disaster. It's one of my favorites.
4. A dream episode of Comedians in Cars Getting Coffee:
Great, great question. Wow. I probably would have to say Charlie Chaplin in a Duesenberg.
5. His feelings on the Modern Seinfeld Twitter feeds:
Oh this is a very painful subject. As you can probably imagine, over the 9 years of doing the show, Larry David and I sat through hundreds of ideas that people wanted to do on the show. And most of the ideas are not good. Which I saw Larry say the other day on some show, somebody asked him the same question and he said "I know you think it's funny, but it's really hard." The ideas that Larry and I would respond to, I don't even know, they just need to be very unique. It's just a lot harder than it seems to come up with. And particularly for that show, where we tried to do things that were unusual, and you had to go through a lot of ideas to find the ones you like.
6. Does he ever quote Seinfeld?
The only line I quote from the show (and I'll be very impressed if anybody out there remembers this line) is "If you're one of us, you'll take a bite."
I find myself saying that to my kids a lot. It's a very obscure line, but George was working at some company where they all had lunch together, and he wasn't trying the apple pie, and the boss finally says "If you're one of us, you'll take a bite." A lot of times kids won't want to try certain foods, and so I'll use that line. Sometimes I'll quote Newman in flames screaming "Oh the humanity."
7. His feelings on the finale of Seinfeld:
I was happy with the Seinfeld finale because we didn't want to do another episode as much as we wanted to have everybody come back to the show we had so much fun with. It was a way to thank all of the people who worked on the show over the years that we thought made the show work. I don't believe in trying to change the past but I'm very happy with it.
8. His favorite pieces of Superman merchandise:
I have a few old Supermans with the Curt Swan art from the 60's. But nothing impressive. I have a really nice model of Kal-El being loaded into the rocket and then another model of the rocket landing in from of Ma and Pa Kent. Those are my best Superman collectibles.
9. His feelings on Man of Steel:
I was so happy that they made another Superman movie! I'm really reluctant to be critical of it in any way. But I thought the glossing over of the figuring out a secret identity and why he felt he needed one was a huge missed opportunity for that character, and one of the most interesting things about Superman is the whole secret identity. So to me it was too much action / violence and not enough character study.
10. Would he do another animated film:
First of all, thank you so much for liking Bee movie. Animated stuff is a little effort-intensive. And the complete opposite of being in front of a live audience. So as much as I like the final result, the process was a little tough for me to do.
And two bonus answers, about Simon Pegg potentially going on CCC and the rumor of there being a Superman in every episode of Seinfeld.