What I Learned On The Set Of 'Jack Ryan: Shadow Recruit'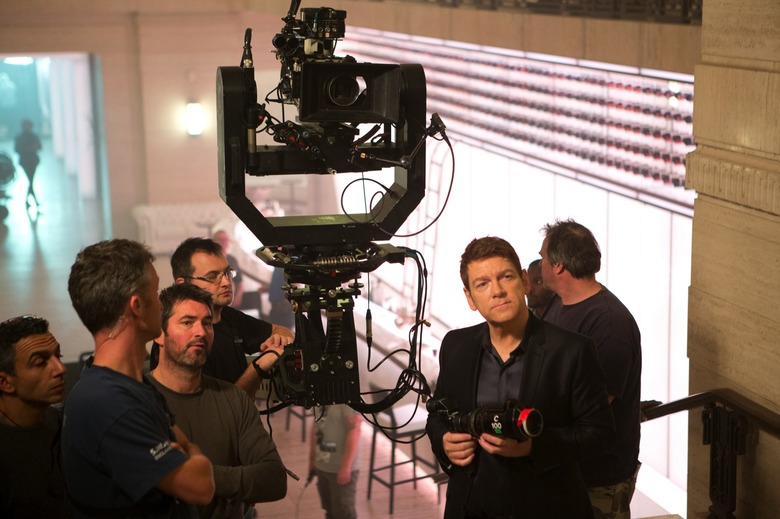 On October 25th 2012 I found myself sitting in The White Horse pub watching a monitor showing Chris Pine run through the misty rain into a financial building. While the sequence in Jack Ryan: Shadow Recruit is supposed to take place in the brand-new financial center in Moscow, Russia (a clue to the film's antagonist) it was being filmed in Liverpool, England.
For nine years, producers have been trying to restart the franchise, based on the character Tom Clancy created in books like The Hunt For Red October and Patriot Games. Taking a cue from the recent James Bond films, Jack Ryan is an origin story — a pre-boot set in the now. In this versions, 9/11 has taken place, and is a huge motivator for our hero. The following is what I learned about the film from co-star Kevin Costner and director Kenneth Branagh, fresh from Thor.
Kevin Costner was originally offered the Jack Ryan role in the late '80s but had to decline to direct his dream project. Usually turning down a lead role which evolves into a book/film franchise would be an epic failure, but Costner has no regrets. His dream project did pretty well: Dances with Wolves won 7 of its 12 Academy Award nominations and was a resounding financial success. This time around Costner is joining the franchise as Ryan's mentor William Harper, a legendary CIA Field Agent who is expected to get his own spin-off film series.
I have to admit, I didn't witness much filming on this set visit — probably the least out of any of the sets I've visited to date. Normally this would be a horrible thing, but our roundtable interview with Costner was one of the best interviews I've ever been a part of. Costner went into detail on his theories as an actor, storyteller, and filmmaker. Sitting in the room, listening to these ideas and stories, it was clear why Costner has had the career that he has. Its not because he has easy good looks, or blond hair and blue eyes; this is a very smart man. You will find that interview in another post on this site.
Here are a few things I learned during our interviews on the set of Jack Ryan: Shadow Recruit:
Thor director Kenneth Branagh was sent the script and knew instantly that he had to make it because it was set in the world of the 1970s films he loves, such as All The Presidents Men.
Branagh did his research, not only revisiting the previous Jack Ryan films but reading all of the books.
Kenneth thinks that Jack Ryan will stand out amongst other recent spy franchises because his hero doesn't have the high technology of the Mission: Impossible series, he's not a paid assassin like the Bourne films, he lacks the elegance of Bond — he's more of an everyman and there is more of a personal story at the center of it all.
Without a table surrounded by geeks asking, Branagh hilariously promises Jack Ryan won't have any of Thor's dutch angles.
Jack Ryan shot over 46 days. We were on set for day 30 of filming.
Producer Lorenzo di Bonaventura says the film will be incredibly contemporary, not like pre-911 jack Ryan films. And this is no coincidence, as September 11th is a direct motivator for our hero — Jack reacts to the terror by going into the service and is forced to make a decision about what he's going to do with his life when he comes out. The villain of the story is a flip to Jack Ryan, having the same war experience but coming away from it with his own different views on nationalism. He's misguided but intentioned.
The story explores what is a superpower has evolved into, how terrorism has changed, invading the financial marketplace. The movie plays with the way the economic order has changed and who can take advantage of it.
Lorenzo is unsure if they would want to redo the previous Jack Ryan movies in this new universe, as the other films/stories are so set in their own time with the Soviet Union...etc.
Chris Pine was cast after Paramount saw him in dailies from JJ Abrams' Star Trek.
Tom Clancy wasn't involved in  the development of this movie but the producers revisited every single Clancy book and tried to incorporate many different aspects from so many different books. Viewers who don't have any previous experience of Jack Ryan will get it, but those who know the movies or the books will get even more out of the story.
The story was originally set in Dubai but that changed to Moscow a few years ago.
Kevin Costner has not had conversations with Paramount about his character crossing over to the other Clancy films. But the idea is he has several agents under his guidance. If it were to happen, Costner says he would like to be more and more active, film by film. He usually only commits film by film but is not apprehensive about having signed a multiplicative deal because he doesn't think they'll make another one if the first one isn't good.
Jack Ryan was shot 20% digitally and 80% on 35mm film. The cinematographer is a huge film fanatic and fought to shoot on film. But they found that video had advantages in some of the sequences they were to film at night. Film requires a lot of trust in technicians in those kind of circumstances and they didn't want to wait until dailies to see if it turned out they way they wanted.
Paramount approached Kenneth Branagh with the script looking for him to direct the film, but the studio was also interested in having him play the antagonist. Kenneth waited until he cast the leads before deciding if he would fit right into the mix.
Chris Pine says that Jack Ryan's weapon is his brain, he moves faster with his mind than other people.
Chris broke his finger during a stunt which involved his character tackling someone. Pine was wearing a brace on his left hand when we spoke with him.
After returning to the hotel from set, I recorded the following short set visit  video blog with Frosty from Collider: