'Jack Ryan: Shadow Recruit' Serves Up New Clip, Two Character Posters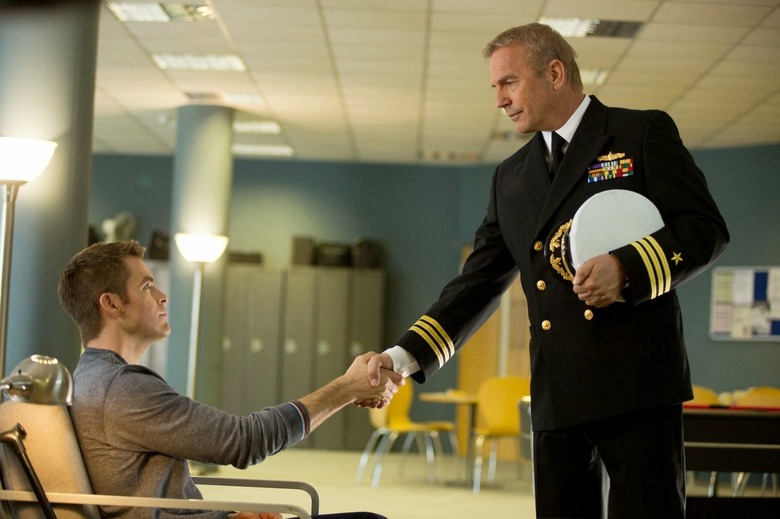 As Captain Kirk in the Star Trek movies, Chris Pine has perfected the art of keeping cool under big, violent, explosive pressure. But his character in Jack Ryan: Shadow Recruit is a whole different story.
In a new clip from the Paramount thriller, Jack is enjoying a breathtaking view from his comfy hotel when the guy (Game of Thrones' Nonso Anozie) supposedly helping him suddenly tries to kill him. Fortunately for Jack and unfortunately for the other guy, Jack is a trained Marine — not that that makes him any less freaked out by the way things go down.
Watch the scene and check out two new character posters featuring Keira Knightley and Kevin Costner after the jump.
The clip is a condensed version of one of the scenes I saw at Paramount's special footage presentation last month. For more detailed info, check out my previous post about it.
While that scene is all about Jack, Jack, Jack, it's his allies William Harper (Costner) and Cathy Ryan (Knightley) who get the spotlight in the first two character posters.
Jack Ryan: Shadow Recruit bows January 17. Kenneth Branagh directs and co-stars.
Based on the character created by bestselling author Tom Clancy, "Jack Ryan" is a global action thriller set in the present day. This original story follow a young Jack (Chris Pine) as he uncovers a financial terrorist plot.
The story follows him from 9/11, through his tour of duty in Afghanistan, which scarred him forever, and into his early days in the Financial Intelligence Unit of the modern CIA where he becomes an analyst, under the guardianship of his handler, Harper (Kevin Costner). When Ryan believes he's uncovered a Russian plot to collapse the United States economy, he goes from being an analyst to becoming a spy and must fight to save his own life and those of countless others, while also trying to protect the thing that's more important to him than anything, his relationship with his fiancée Cathy (Keira Knightley).