'American Hustle', 'Wolf Of Wall Street', 'Lone Survivor' Nominated For WGA Awards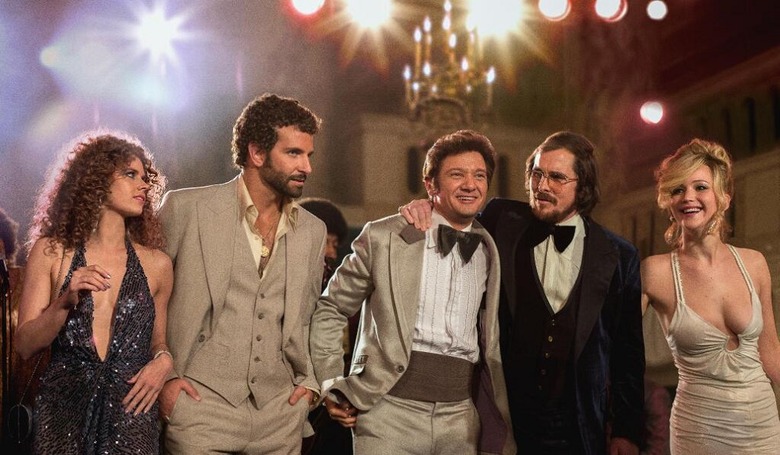 Following SAG and the PGA, the Writers Guild of America has just unveiled its list of nominees for the 2014 nominees. For anyone who's been watching the awards race, the list won't contain many surprises. The WGA likes American Hustle and Dallas Buyers Club just as much as everyone else does. Additionally, several of the most notable absences can be chalked up to disqualifications. 12 Years a Slave, considered a favorite for the Best Picture Oscar, was deemed ineligible, as was Golden Globe nominee Philomena.
One that did qualify but failed to secure a nomination nonetheless was the Coens' Inside Llewyn Davis, which similarly struck out with both SAG and the PGA. And one unexpected outcome was a nomination for Peter Berg's Lone Survivor, which hasn't come up in too many awards seasons conversations as of yet.
Hit the jump to read the full list.
American Hustle, Written by Eric Warren Singer and David O. Russell; Columbia PicturesBlue Jasmine, Written by Woody Allen; Sony Pictures ClassicsDallas Buyers Club, Written by Craig Borten & Melisa Wallack; Focus FeaturesHer, Written by Spike Jonze; Warner Bros.Nebraska, Written by Bob Nelson; Paramount PicturesORIGINAL SCREENPLAYAugust: Osage County, Screenplay by Tracy Letts; Based on his play; The Weinstein CompanyBefore Midnight, Written by Richard Linklater & Julie Delpy & Ethan Hawke; Based on characters created by Richard Linklater & Kim Krizan; Sony ClassicsCaptain Phillips, Screenplay by Billy Ray; Based on the book A Captain's Duty: Somali Pirates, Navy SEALS, and Dangerous Days at Sea by Richard Phillips with Stephan Talty; Columbia PicturesLone Survivor, Written by Peter Berg; Based on the book by Marcus Lutrell with Patrick Robinson; Universal PicturesThe Wolf of Wall Street, Screenplay by Terence Winter; Based on the book by Jordan Belfort; Paramount PicturesDOCUMENTARY SCREENPLAYDirty Wars, Written by Jeremy Scahill & David Riker; Sundance SelectsHerblock – The Black & The White, Written by Sara Lukinson & Michael Stevens; The Stevens CompanyNo Place on Earth, Written by Janet Tobias & Paul Laikin; Magnolia PicturesStories We Tell, Written by Sarah Polley; Roadside AttractionsWe Steal Secrets: The Story of Wikileaks; Written by Alex Gibney; Focus Features
TV and radio nominations, which were announced last month, can be seen here. Winners will be announced Saturday, February 1 at a ceremony in Los Angeles.