Watch Two Clips From Wes Anderson's 'The Grand Budapest Hotel'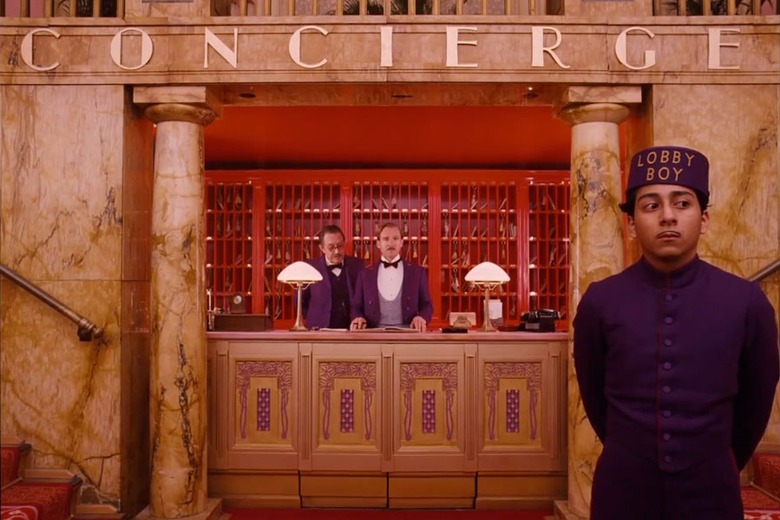 Of all the highly anticipated films hitting theaters in 2014, Wes Anderson's The Grand Budapest Hotel is one of the first to arrive. Scheduled for release March 7, the film follows the adventures of a concierge (Ralph Fiennes) and lobby boy (Tony Revolori) at a huge European hotel between World War I and World War II. The cast is impressive as always (Willem Dafoe, Jeff Goldblum, Jason Schwartzman, Jude Law, Tilda Swinton, Bill Murray, Owen Wilson, Adrien Brody, Edward Norton, Saoirse Ronan) and as fantastic as the trailer was, two clips from the film are now out. Each is not only filled with the classic Wes Anderson tropes, but a real sense of energy and urgency. Check them out below.
Here's the introduction of  Zero Moustafa, played by Tony Revolori, via Apple.
And here's Gustave H (Fiennes) running away from a problem, via Yahoo.
Yes, the aspect ratios are correct there. The film reportedly changes aspect ratio at multiple times during the film, to reflect the different time periods in which parts of the story take place. Also, Fiennes seems so perfect in this world, spitting out dialogue and quirk with the greatest of ease.
The Grand Budapest Hotel opens March 7.
THE GRAND BUDAPEST HOTEL recounts the adventures of Gustave H, a legendary concierge at a famous European hotel between the wars, and Zero Moustafa, the lobby boy who becomes his most trusted friend. The story involves the theft and recovery of a priceless Renaissance painting and the battle for an enormous family fortune—all against the backdrop of a suddenly and dramatically changing Continent. Starring Ralph Fiennes, F. Murray Abraham, Mathieu Amalric, Adrien Brody, Willem Dafoe, Jeff Goldblum, Jude Law, Harvey Keitel, Bill Murray, Edward Norton, Saoirse Ronan, Léa Seydoux, Jason Schwartzman, Tilda Swinton, Tom Wilkinson and Owen Wilson.