Sequel Bits: 'Ninja Turtles', 'Starship Troopers', 'Horrible Bosses 2', 'Purge 2'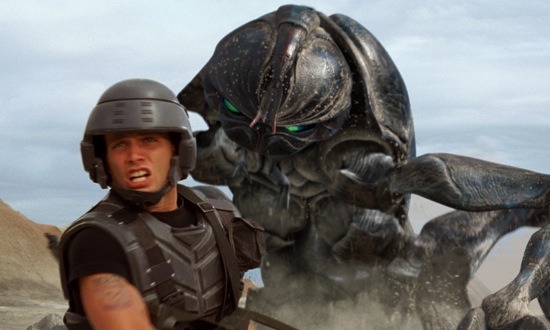 Here's one way 2014 won't be much different from 2013: The flood of sequels, reboots, and remakes isn't slowing down anytime soon. After the jump:
Short Term 12 star Keith Stanfield will be part of The Purge 2
That Starship Troopers remake will be closer to the source material
Jon M. Chu talks G.I. Joe 3 and dropping Masters of the Universe
What do the new Ninja Turtles action figures tell us about the movie?
The guys are back together for a new Horrible Bosses 2 image
Now his latest addition is Keith Stanfield, best known to audiences right now as troubled young Marcus from Short Term 12. His role is being kept under wraps at the moment, along with pretty much every other plot detail about the film. Stanfield's other upcoming roles include Memoria, based on James Franco's Palo Alto Stories.
Universal has The Purge 2 set for a June 20 opening. [TheWrap]
Paul Verhoeven's deeply satirical slant is part of what makes his Starship Troopers such a classic, but don't expect the remake to follow in those same footsteps. According to screenwriter Zack Stentz, the new take will be much closer in tone to the source material by Robert Heinlein.
@scottEweinberg Less a satire & more an actual adaptation of the Heinlein novel. An Officer & a Gentleman in power armor.

— Zack Stentz (@MuseZack) December 22, 2013
Stentz has also previously likened the film's tone to that of Minority Report. Maybe the new Starship Troopers will suck and maybe it won't, but if nothing else, it's bound to be very different from the Verhoeven film and its handful of DTV sequels. [via JoBlo]
When it comes to G.I. Joe 3, director Jon M. Chu says that doing something different, not necessarily something bigger, is the key.
It's definitely not about making it bigger 'cause we went pretty big last time and it didn't necessarily make it better. [...] But in terms of Joe, I think it's more about being creative with it and giving the audience something different and new. We've had two G.I. Joes now, in two very different ways, and we have to take the lessons that we learned with those two to try to make the best Joe possible. I love G.I. Joe because it's about heroes. It's very classic storytelling. There are villains and there are heroes, and there are human beings in the middle of it all, and they have to make choices about their life to become the hero. They have to sacrifice, they have to risk themselves, and they're fighting for something. I love that it has classic storytelling. I always try to bring that back and try to make it simpler. It doesn't have to be big, but you have to have more creative fighting and simpler storytelling, so you can enjoy it.
Say what you will about G.I. Joe: Retaliation, but he does seem genuine in his passion for the franchise. In fact, it's that devotion that led to his dropping out of Masters of the Universe last year.
It was timing. We did so much for Masters, and the script is awesome. I love that project. I would have loved to do it. The problem with Joe is that we have a specific timeline and I need to be on that timeline. Masters wasn't ready to go, at that moment. And I have a loyalty to G.I. Joe. I don't feel like I've fulfilled the promise I gave, to bring everything I love about Joe to the script. I feel like we did a lot of foundational stuff. We cleared the way. We brought the movie back to life, but at the same time, there's so much more to do, to make it even better. I learned a lot on the last one, and I want to put that into practice and make this one even better, and make it have life for many, many movies in the future, whether I'm doing them or not.
G.I. Joe 3 does not yet have a release date, but according to Chu will probably shoot sometime this year. "I don't know if I'm fully allowed to say when or how we're gonna do it, but we're in the middle of designing and creating the world right now, and writing the script," he said. "It's going to be quite the adventure." [Collider]
Although we've seen plenty of set photos of the Teenage Mutant Ninja Turtles cast in their mo-cap suits, the tie-in toys may be more revealing when it comes to the characters' actual, finished looks. Idle Hands got to take a peek at a new line of Ninja Turtle toys, and while we can't confirm that they're 100% representative of the designs from the film, it's probably a safe assumption that they aren't too far off.
For the most part, it seems the turtles and Splinter look as they always have, with the same old color themes and accoutrements. Indeed, the turtle designs "are quite traditional and unremarkable, and feature far less texture than the 90's movie turtles," the site writes. "No beak along the nose area like some speculated."
One big, unpleasant surprise is Shredder, whom Idle Hands predicts will be "the stuff of ridicule for some time." Why? Well, his "very overcomplicated outfit" makes him "look like he owns stock in the Ronco knife company," they write. "Pointy edges coming off of absolutely anything." Moreover, "even though he's covered head to toe in metal armor or blades, his arms are still mostly bare. It's a bit comical." Ouch.
For much more detailed descriptions, head to their site. Teenage Mutant Ninja Turtles opens August 8. [via Comic Book Movie]
Despite its title, Horrible Bosses was more about the poor souls who worked under those horrible bosses. Judging by the first still from Horrible Bosses 2, it looks like the sequel will take the same approach. Charlie Day, Jason Sudeikis, and Jason Bateman reunite in the image, which has them spying on... something.
Fed up with answering to higher-ups, Nick, Dale and Kurt decide to become their own bosses by launching their own business in "Horrible Bosses 2." But a slick investor soon pulls the rug out from under them. Outplayed and desperate, and with no legal recourse, the three would-be entrepreneurs hatch a misguided plan to kidnap the investor's adult son and ransom him to regain control of their company.
Horrible Bosses 2 premieres November 26. Chris Pine and Christoph Waltz also star. [Collider]