First Look And Synopsis: The Gang Lines Up For Marvel's 'Guardians Of The Galaxy'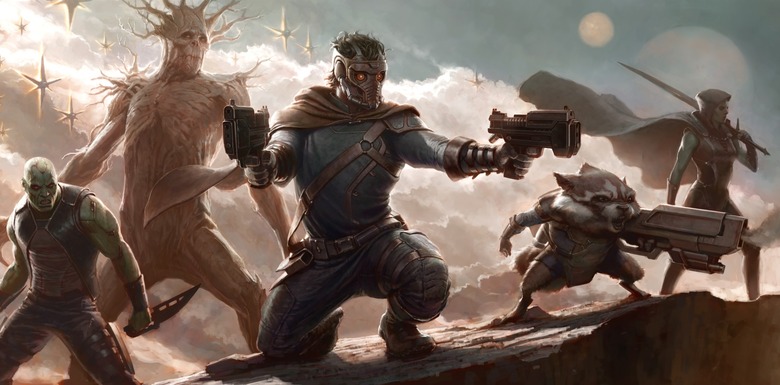 Christmas came and went last week, but Marvel's got a couple more gifts for us before we launch into 2014. The studio has just revealed the first still and the official synopsis for Guardians of the Galaxy, coming next summer with Chris Pratt, Zoe Saldana, Dave Bautista, Bradley Cooper, and Vin Diesel in the lead roles and James Gunn at the helm. Hit the jump to check it out.
Obviously, that's not really Cooper or Diesel we're seeing here. Cooper voices the feisty Rocket Raccoon (center), and Diesel the tree-like Groot (far right). Rounding out the team of heroes are Saldana (far left) as alien assassin Gamora, Pratt (center left) as the group's Earthling leader Peter Quill, and Bautista (center right) as vengeful warrior Drax the Destroyer.
The image appears to be from a scene we glimpsed in the Comic-Con footage this summer. The Guardians have just been taken in by Nova Corp, and are acting all sassy as leader Rhomann Dey (John C. Reilly) identifies each member of the team to a colleague (Peter Serafinowicz). The photo also bears a close resemblance to a bit of concept art we got a while back.
As for what exactly this ragtag gang of misfits will be doing onscreen next summer, the new synopsis provides a few clues.
From Marvel, the studio that brought you the global blockbuster franchises of Iron Man, Thor, Captain America and The Avengers, comes a new team — the Guardians of the Galaxy. An action-packed, epic space adventure, Marvel's "Guardians of the Galaxy" expands the Marvel Cinematic Universe into the cosmos, where brash adventurer Peter Quill finds himself the object of an unrelenting bounty hunt after stealing a mysterious orb coveted by Ronan, a powerful villain with ambitions that threaten the entire universe. To evade the ever-persistent Ronan, Quill is forced into an uneasy truce with a quartet of disparate misfits — Rocket, a gun-toting raccoon, Groot, a tree-like humanoid, the deadly and enigmatic Gamora and the revenge-driven Drax the Destroyer. But when Peter discovers the true power of the orb and the menace it poses to the cosmos, he must do his best to rally his ragtag rivals for a last, desperate stand — with the galaxy's fate in the blanace. Marvel's "Guardians of the Galaxy" is presented by Marvel Studios. The film releases August 1, 2014, and is distributed by Walt Disney Studios Motion Pictures.
Guardians of the Galaxy opens August 1, 2014. Lee Pace plays Ronan the Accuser, and Karen Gillan, Djimon Hounsou, Glenn Close, and Benicio Del Toro are also among the cast.