Fan-Made Musical Reprise For 'Frozen' Will Make You Melt [Video]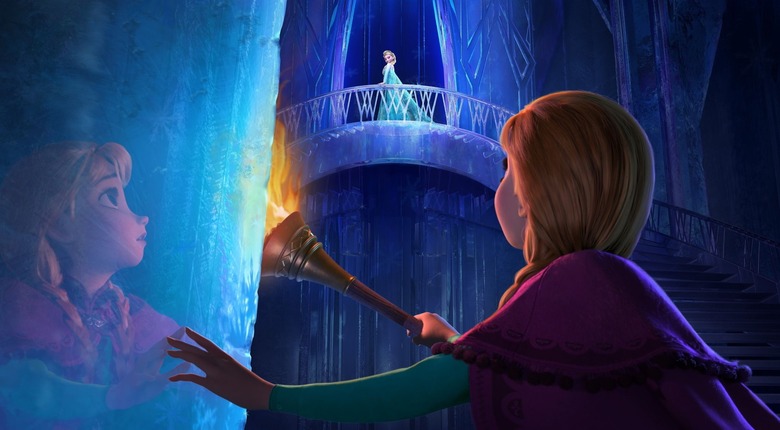 As I recall it, the climax of Disney's Frozen is pretty great as it is. All the themes of the film — love, sisterhood, self-sacrifice, self-control — come to a head in one moving scene, sure to jerk tears and draw smiles in equal measure. But one fan thinks there's a little something else Disney could've done to make the moment even more touching. After reviewing the video evidence, I'm inclined to agree.
One Tumblr user penned a reprise of "Do You Wanna Build a Snowman?" to go with the big moment, another recorded the tune, and a third set it to video. Check it out after the jump, but be warned that major spoilers follow, and also that it may leave you bawling like a baby.
Phananigans at Musical Catbug (via io9) suggested that the reprise could play during the other major development in Anna and Elsa's relationship — when Anna steps in to save Elsa and becomes entirely frozen in the process. Here are the lyrics as he wrote them:
Yes I wanna build a snowman...
I'm sorry that it took so long...
I didn't know I needed you...I really do...
and now you're gone...
please...just ask me once more...
just one more time...I promise I'll open the door
...yes I wanna build a snowman...
Scarlet-Glow lent her voice to Phananigans' lyrics, and Juvia put the recording to a clip from the movie. The video offers a rough idea of what the suggested reprise might look and sound like in context.
It works very well, to the point where I'm surprised Disney didn't think of doing this themselves. But maybe it's for the best that they didn't. The scene is plenty heartbreaking already, and I'm pretty sure a melancholic reprise like this would've pushed me from "misty-eyed" to "flat-out sobbing."
Do you think the fanmade reprise is an improvement on Frozen's climactic scene?