Kevin Smith Will Pit Man And Hell Against Jesus In 'Helena Handbag'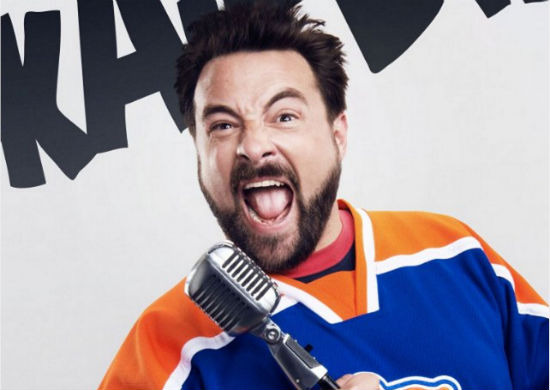 Kevin Smith has talked about the possibility of impending retirement from feature film directing, but that isn't how things are going down. Instead, Smith seems to be moving into his most fertile period yet. When Red State bowed in 2011 Smith said he would follow it with his final film, the hockey story Hit Somebody. That mutated into a (possible) television series, and Smith had Clerks III on his plate, before announcing the strange horror film Tusk. That was announced this past fall and shot in November, with a bit of work still to do in January.
Indeed, Smith seems to have new directorial vigor, at least when it comes to getting things written and shot. Clerks III remains on the horizon — Smith says a May 2014 shoot window is open — but now there's another project.
Helena Handbag will be written by Smith based on a a Smodcast story by he and longtime producer Scott Mosier. What's the tale? In Smith's own words, "mankind teaming up with Hell to save existence from extinction at the hands of a Rapturing giant Jesus."
Smith has a huge Facebook post explaining his current mindset with respect to writing and directing films. The essence is that he only wants to spend energy on films that are uniquely his, and that he has enough financial stability to only make a movie when he's got something that fits the bill. In a comment replying to a fan about Jersey Girl, Smith said "From now on, I'm only gonna make it if it's never been made before."
While we've seen a Rapture movie or two, we definitely haven't seen one that fits the description above. While Smith says this will have to be a pretty low-budget affair ("because NOBODY'S gonna wanna make that movie") he'll still probably manage to recruit a recognizable talent or two.
The post explains that this comes out of the 52nd SModcast episode, from a story originally called The (C)Rapture. The new title is also explained a bit, as something that is related to the plot and also a bit vague about what's in the film.
There's no stated window in which Smith will make Helena Handbag, but it will likely be after Clerks III shoots. [via The Wrap]