Angie's Most Anticipated Films Of 2014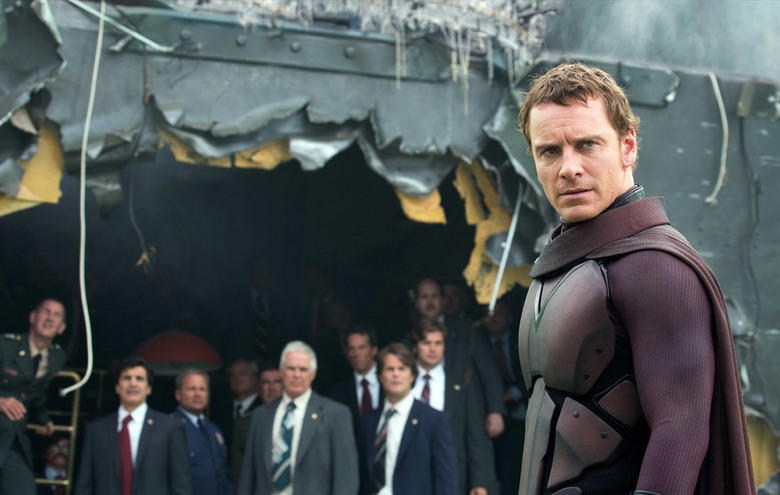 2013's given us all it has to offer at this point, but 2014 is just around the corner with a whole new slate of promising films. The movies I'm most looking forward to are all over the map, running the gamut from provocative arthouse flicks to big-budget superhero movies. After the jump, check out the ten titles that have me giddy with anticipation for the next twelve months.
Yes, the two-part film's been getting a lot of attention for its explicit, numerous sex scenes. But reviews from Europe (where it has already opened) suggest it has a formidable brain to go with all that writhing flesh. Sexuality is not a topic that mainstream pictures typically handle all that well, so it should be interesting to hear what a (in)famous provocateur unconcerned by propriety or MPAA standards has to say about it. (March 21 and April 18)
The story of Noah and his ark is so familiar to most Americans, it's easy to forget how insane the story really is. But if anyone can be counted upon to bring the fable's darker themes to the forefront, it's Darren Aronofsky. The Biblical hero (played by Russell Crowe) should fit right into Aronofsky's lineup of protagonists consumed by their obsessions, and his crazy tale should provide plenty of opportunities for Aronofsky to put his knack for striking visuals to good use. (March 28)
Truthfully, the premise of Jupiter Ascending — an interplanetary warrior tries to save a princess in peril — doesn't sound all that exciting to me. But the Wachowskis are so ambitiously, irrepressibly creative that a success has the potential to be groundbreaking, and even a failure is bound to be more interesting than most of the generic sci-fi actioners churned out each year. (July 18)
It's not to the extent that you'd ever mistake a Captain America sequel for a Thor sequel, but the Marvel pictures do have an enforced sameness about them. So it's great to see the franchise taking a new direction with Guardians of the Galaxy, which — if that Comic-Con reel and that Thor: The Dark World credits sequence are any indication — looks hilarious, bizarre, and above all, refreshingly original. Not to mention the fact that it's about time someone tried to make Chris Pratt a big, big star. (August 1)
Laika's previous features Coraline and ParaNorman stood out in the crowded animation field — not just because they were stop-motion pictures at a time when glossy CGI is the norm, but also because they were unusually smart and heartfelt. We haven't seen much of The Boxtrolls yet, but the small glimpses we've had so far suggest it'll be cut from the same lovely, handmade cloth. (September 26)
I was not a huge fan of the newer Futurama episodes. I didn't love the new Arrested Development season. I'm the rare Friday Night Lights fan who was rooting against a movie sequel. Put simply, I am not the kind of TV viewer who wants endless sequels, reunions, and revivals. And yet... I adored Veronica Mars, and anywhere she is, I know I'm going to be too. Especially if Logan, Mac, Wallace, Weevil, and Keith are going to be there as well. (Fine, you come too, Piz.) Even as I prepare myself for the worst, I can't help but hope for the best. (March 14)
With Cloudy With a Chance of Meatballs, Phil Lord and Chris Miller adapted a slim kids' book into a meaty, satisfying adventure. With 21 Jump Street, they turned a remake no one asked for into the best studio comedy of 2012. I fully expect that with The Lego Movie, they'll make something entertaining and original out of what could've been a lazy cash grab. Especially since they've collected a cast of stars — including Chris Pratt, Elizabeth Banks, and Will Arnett – who should fit right into their upbeat, zany vibe. Plus, have you seen those trailers? (February 7)
If you asked me which major superhero movie I thought would be the best of 2014, I'd probably pick one of the Marvel Studios titles. But this is a list of the films I'm most looking forward to, and my heart has always been with Professor X and his BFF (Best Frenemy Forever) Magneto. Sure, X-Men 3: The Last Stand was a disappointing close to a wonderful trilogy, and X-Men: First Class never quite made the most of its fantastic cast. But the combination of Bryan Singer, the original stars, and the First Class actors promises to be a must-see for X-fans everywhere. (May 23)
If there's a silver lining to Bong Joon-ho's ongoing battle with The Weinstein Company over Snowpiercer's U.S. edit, it's that the controversy has highlighted just how much great press Bong's original cut is getting. Early reviews indicate that Bong's first English-language effort is every bit the equal of his earlier Korean-language works: smart, gorgeous, thrilling, and dark, dark, dark. (Release TBD)
With the Celine and Jesse trilogy, Richard Linklater observed a romance unfolding in real time. Boyhood (or whatever it winds up being called) takes that approach to the next level by showing an actual kid grow up over the course of the movie. The film began shooting with child actor Ellar Salmon in 2002, and according to both Linklater and star Ethan Hawke, is due out sometime in 2014. That crazy idea might work or it might not, but either way it ought to be worth checking out.
And besides, Linklater's Before Midnight topped both my most-anticipated list in 2012 and my favorites list in 2013. I'd be crazy to bet against him in 2014. (Release TBD)