Sony Reveals 'Ghostbusters' 30th Anniversary Licensing Partners Including Gallery 1988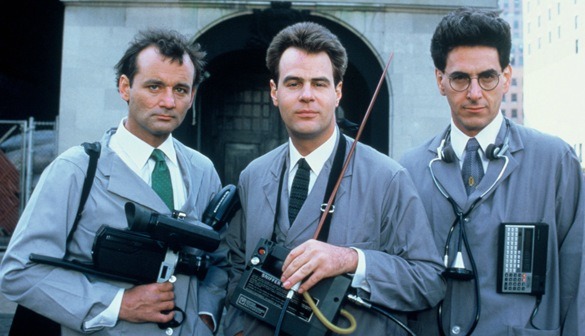 2014 brings the 30th anniversary of all films released in 1984 and one of the biggest has to be Ghostbusters. While rumors have continued to swirl about a new iteration of the franchise, Sony has just revealed plans to celebrate the anniversary in another way. They've released a list of merchandising partners who'll be honoring the film with new games, toys and collectibles over the course of the year. And while that's all well and good, one partner in particular stands out.
That would be Gallery 1988, the Los Angeles pop culture art gallery. They'll be running a Ghostbusters traveling art show during the year with brand new limited edition screenprints and posters culminating at San Diego Comic-Con 2014.
We've contacted Gallery 1988 for some more details on this occasion but have yet to hear back. (Though they did tweet this.) For now, all we have is this press release via Media Connection.
Sony Pictures is getting ready for the 30th anniversary of Ghostbusters next year by lining up a raft of licensees for apparel, toys, collectibles and publishing. The all-new program will target the classic film's core fan base with products and events.
Licensees signed on to support the anniversary include Mattel, IDW Publishing, World Tech Toys, Quantum Mechanics, Factory Entertainment, Diamond Select and Medicom Toys, Mad Engine, Titan Figures, Uniqlo, Kaientai, BCI, Funko and Underground Toys. Additionally, gaming partners such as Beeline, Ubisoft, GSN, Path, XMG and IGT will create interactive, gaming and slot machines items, and MDI is planning a series of state lottery programs.
Sony has also partnered with the pop culture art gallery Gallery 1988 to create a traveling art show that will feature top artists' interpretations of Ghostbusters over the last 30 years. Limited edition screen prints and posters will be available during each stop of the tour, which will conclude in July at Comic-Con International in San Diego, Calif., in July.
"This franchise is very important to the studio, and we wanted to give fans new and exciting ways to participate," says Greg Economos, senior vice president, global consumer products, Sony Pictures Entertainment. "Ghostbusters continues to gain fans and recognition year after year, and we are thrilled to extend the brand through products and events to celebrate this milestone event."
Lots of fun stuff there including books, toys, games and more. But for me, it's that art show that stands out.
Let's do a little history lesson. Gallery 1988 did an unofficial Ghostbusters art show in 2010, alongside Goonies and Gremlins, called The 3G Show. You can look at some of the art here. With the official license, however, you'd imagine they'll attract bigger artists. Plus the travel aspect means it likely won't just be limited to Los Angeles fans, which is usually the case. (I'm guessing it might be something like the Lost Art Experience they did in 2009.)
From a collector's point of view though, the big question is likeness rights. For years, several companies (such as Mondo) have been trying to do official Ghostbusters prints. However the actors (and I'm guessing one in particular) wouldn't allow them to use their likeness. As iconic as the Stay Puft Marshmallow Man or Ecto-1 is, Ghostbusters is really all about the actors. Those companies who may have been allowed to use the non-actor iconography have passed. Maybe on the occasion of the anniversary, that wrinkle has been ironed out. Plus, Gallery 1988 also did a Bill Murray show a few years back. So who knows.
When we hear more about this, we will be sure to let you know, but for now, start getting those Proton Packs charged up.