See Stephen Colbert's Brief Cameo In 'The Hobbit: The Desolation Of Smaug'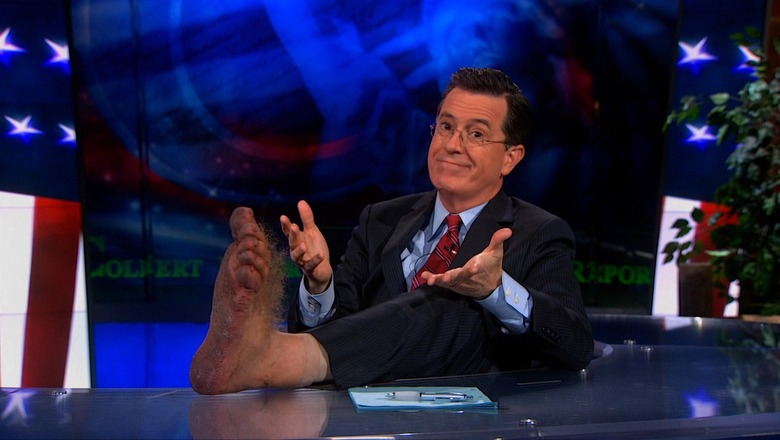 As Stephen Colbert, the bombastic host of The Colbert Report, Stephen Colbert says a lot of things that Stephen Colbert, comedian and family man, might not necessarily agree with. But one thing neither version of Colbert has ever been fake about is his enduring love for Middle-earth. No less an authority than Peter Jackson has declared Colbert the biggest "Tolkien geek" he's ever met.
This year, Colbert's decades-long obsession culminated in an actual role in the latest installment of Jackson's Tolkien franchise, The Hobbit: The Desolation of Smaug. But you'd be forgiven if you failed to notice — Colbert, along with his family, appears for just the blink of an eye. Hit the jump to check out their cameos in GIF form.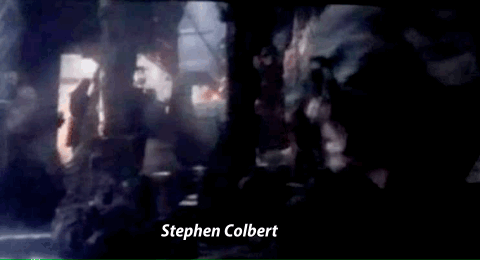 And here's a screencap if you'd like to take a closer look.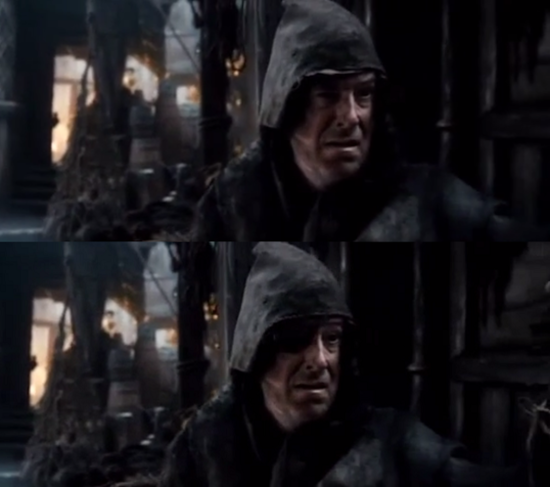 Also in the movie were Colbert's wife, Evelyn McGee-Colbert, and their sons Peter and John Colbert.
If those GIFs don't jog your memory, this Redditor's description might help.
Okay, it's right as the dwarves are sneaking into Laketown. Bard's son stops them and says that there are spys [sic] watching the house. Shortly after it shows Bard and his Son walking alone and the camera pans to the right and shows Stephen looking at them and he turns his head and his eyepatch falls down.
Colbert himself first hinted at his cameo in a Playboy interview last fall. THR's sources confirmed shortly afterward that the funnyman would appear in Smaug, rather than the 2012 installment The Hobbit: An Unexpected Journey. I forgot all about his role in the year or so since then, and I'm betting many other members of Colbert Nation did as well. Good thing Reddit remained on the case.
The Hobbit: The Desolation of Smaug – featuring Colbert's full Middle-earth debut along with about 160 minutes and 58 seconds of other nonsense — is in theaters now.