'Tim's Vermeer' Trailer: One Of Peter's Top Movies Of The Year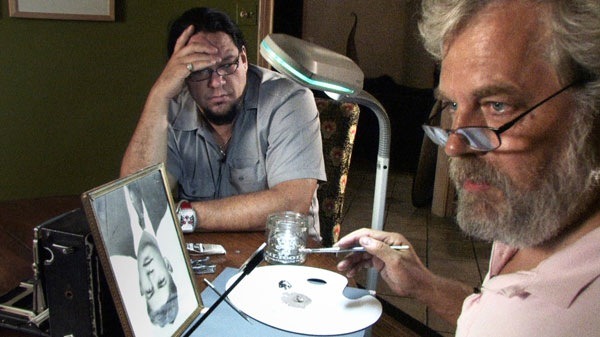 You may have seen all the Oscar bait December releases, but here is a best of the year candidate that probably isn't on your radar. Tim's Vermeer is one of 2013's best films – A funny, maddening & inspiring journey that may even change art history.
The film, crafted by Magician duo Penn & Teller, has nothing to do with magic or magicians at all (at least in the obvious sense). Remember, Penn Jillette also produced the hilarious 2005 documentary The Aristocrats. Although it should be noted that this film is Teller's feature directorial debut.
Tim's Vermeer tells the story of one man's obsession to accomplish the near impossible, and paint a Vermeer with almost no art skills what-so-ever. Along the way he may prove that one of the greatest painters of the Dutch Golden Age could have used unforeseen technology advances to create some of the greatest regarded paintings of all time. And while the film is about one man's journey, it is also an exploration of the intersection of art and technology — If Vermeer invented and used advanced technology to help create his art, was he "cheating"? Is the art somehow less incredible knowing the process? Watch the trailer now embedded after the jump.
Tim's Vermeer opened in NYC and La for a limited engagement in December (Oscar qualifying run), but begins its "real" opening on January 31st 2014 with a small rollout.Official info:
"Tim's Vermeer" follows the journey of Tim Jenison, a Texas based inventor, (Video Toaster, LightWave, TriCaster) as he attempts to solve one of the greatest mysteries in all art: How did 17th century Dutch master Johannes Vermeer ("Girl with a Pearl Earring") manage to paint so photo-realistically – 150 years before the invention of photography? The epic research project Jenison embarks on to test his theory is as extraordinary as what he discovers.
Spanning eight years and edited from over 2400 hours of footage, Jenison's adventure takes him to Delft, Holland, where Vermeer painted his masterpieces; on a pilgrimage to the North coast of Yorkshire to meet artist David Hockney; and eventually to Buckingham Palace, to see the Queen's Vermeer.
Directed by Teller, "Tim's Vermeer" was produced by Penn Jillette and Farley Ziegler and features Tim Jenison, Penn, David Hockney, Philip Steadman and Martin Mull. Executive producer, Peter Adam Golden. Sony Pictures Classics will release "Tim's Vermeer" in 2014.