Vin Diesel Is Officially In 'Guardians Of The Galaxy'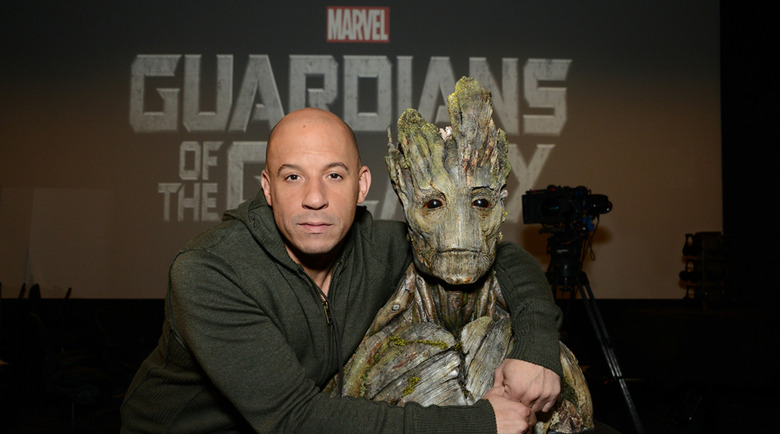 This whole business of Vin Diesel being in Guardians of the Galaxy has been really interesting to watch, because while Diesel talked about playing the tree-alien Groot for a long time, the guy wasn't actually signed to do anything with Marvel for much of that period. Not that he wasn't always a pretty ideal choice, even if his one line in the movie is "I am Groot."
Now Diesel is officially in the picture, and director James Gunn and Marvel have released official stuff confirming so. Gunn posted the photo above this evening, and then Marvel followed up with a press release. Gunn also had a few comments, and you can read those below.
On Facebook, Gunn said,
Yep it is completely official. AND he's amazing. I never knew someone could say I AM GROOT so many different ways and with such feeling (and that sounds like I'm kidding but I'm not!)
The director also answered some questions after posting this pic. First, what's the story with the late casting announcement?
He was never announced. He said he wanted to do it and we said we were talking to him. Everything else was people guessing and thinking they knew what was going to happen. ... Also I hope this puts to rest all the silly Thanos-Vin stuff which people just seemed to make up out of nothing.
(To be fair, as long as people were guessing, the Vin/Thanos stuff seemed like a decent call, given the actor's physique and voice.)
And what's the model of Groot that Vin is cuddling?
This was the bust we used for reference when shooting. It has changed slightly from this since we started animating him. ... [It was made by] David White and his team based on Charlie Wen and his team's designs.
The rest of the major characters in Guardians of the Galaxy are Star-Lord (Chris Pratt), Rocket Raccoon (voiced by Bradley Cooper), Gamora (Zoe Saldana) and Drax (Dave Bautista).
The Marvel press release adds:
In the far reaches of the Marvel Cinematic Universe, an unlikely cast of characters including Peter Quill, Gamora, Drax, Groot and Rocket Raccoon must join forces to defeat a cosmic force of epic proportions. Directed by James Gunn, the live-action "Guardians of the Galaxy" will take fans to new corners of the Marvel Universe when it hits theaters August 1, 2014.