Rogue Cut Out Of 'X-Men: Days Of Future Past'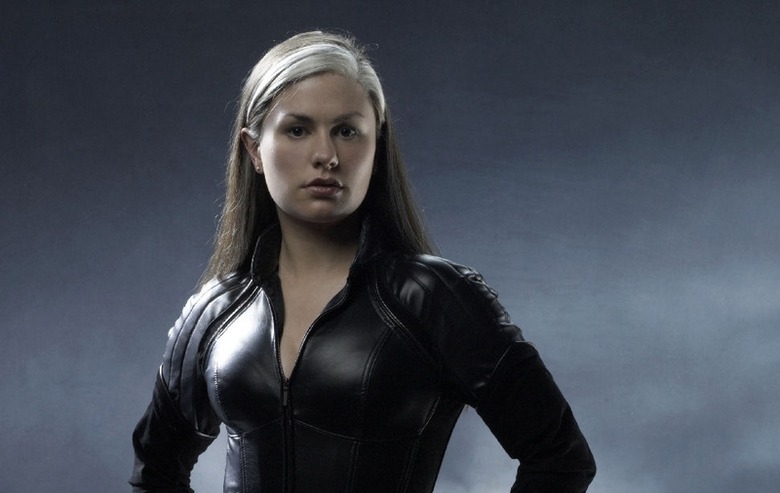 The overstuffed roster for X-Men: Days of Future Past just got a little bit smaller. Although Anna Paquin's Rogue was reported as being part of the sequel all the way back in January, director Bryan Singer now reveals that the character has sadly been cut out of the film altogether. Hit the jump to find out why.
"Through the editing process, the sequence became extraneous," Singer explained to the publication. "It's a really good sequence and it will probably end up on the DVD so people can see it. But like many things in the editing process, it was an embarrassment of riches and it was just one of the things that had to go. Unfortunately, it was the one and only sequence Anna Paquin was in, the Rogue character was in. Even though she's in the materials and part of the process of making the film, she won't appear in it."
The filmmaker stressed that Paquin was not the problem. "She did a fantastic job," he said. "She was awesome in the sequence. She's a brilliant actress. I would work with her in a heartbeat." As for Paquin, Singer says she "completely understood" the move. "It's very disappointing, but she's very professional and she knows that stuff happens, particularly with material you shoot early on in production," he said. "Films evolve."
The gigantic cast for X-Men: Days of Future Past has had fans wondering how Singer could possibly find time to service them all in a two-hour film. The fact that Rogue was cut out so easily confirms what we suspected — that some of the stars' roles will amount to little more than cameos.
Sadly for Rogue fans, this is the second time in recent memory that the heroine has been dropped from an X-Men film. Over the summer, screenwriter Mark Bomback revealed that he'd originally planned to put Rogue in The Wolverine, but that he'd cut her out when the storyline got too "goofy."
X-Men: Days of Future Past opens May 23, 2014.