'Better Call Saul' Adds More 'Breaking Bad' Scribes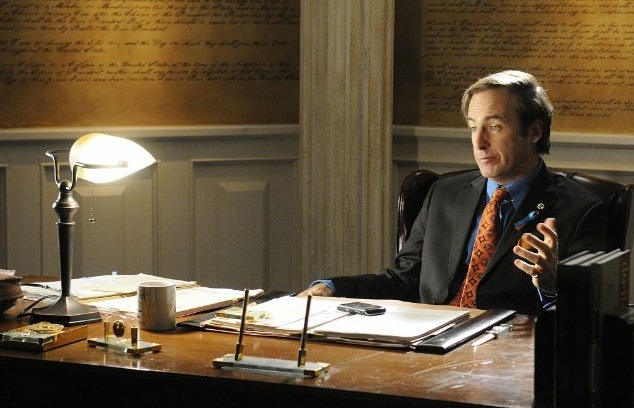 AMC's Better Call Saul is calling up a couple of familiar names from the Breaking Bad days. Writers Thomas Schnauz and Gennifer Hutchinson have just signed on for the spinoff show, joining fellow BB alum Peter Gould. Bob Odenkirk will reprise his role as the super-shady lawyer. Hit the jump for the latest updates on this highly anticipated series.
Excited to get into my "Better Call Saul" office. Off to a great start... pic.twitter.com/JeJpHJshVy

— Thomas Schnauz (@TomSchnauz) December 19, 2013
The project was conceived by Gould and Breaking Bad creator Vince Gilligan. Although Better Call Saul has previously been described as a prequel, Odenkirk has suggested that it could contain sequel elements as well. The official logline reads as follows: "From parking tickets to mass murder, from slip-and-fall to bond fraud, Saul handles it all."
Schnauz joined the Breaking Bad staff in Season 3 and became a co-executive producer in Season 5. He was nominated for an Emmy for writing the Season 5 Part I episode "Say My Name," which he also directed. He also penned the episodes "One Minute," in which Hank gets shot, and "End Times," in which Brock falls sick. His non-BB credits include episodes of Reaper and The X-Files.
Hutchinson has been with Breaking Bad since Season 2. In the show's final season, she was promoted to executive story editor. Episodes she wrote include "Cornered," a.k.a. the one with the "one who knocks" speech, and "Confessions," a.k.a. the one with the Mexican restaurant. Both Schnauz and Hutchinson remained with the show through the finale.
Better Call Saul is expected to premiere in 2014, although AMC has yet to announce an exact premiere date. Those who don't have a cable subscription will be able to watch the show shortly afterward, as Netflix has already struck a deal for streaming rights.