Star Wars Bits: 'Rebels' Concept Art, Official Tumblr Launched, Star Wars Weekends 2014, 'Mythbusters' And More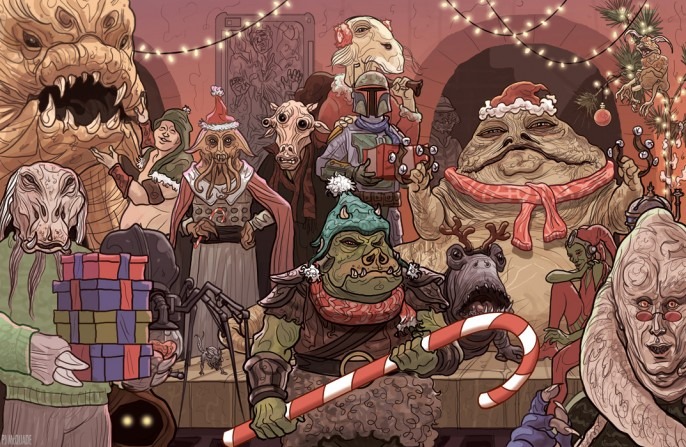 This edition of Star Wars Bits is all over the map. Below read about the following:
Star Wars joins Tumblr...
...and reveals some new Star Wars Rebels concept art.
Disney announces the 2014 dates for Star Wars Weekends.
Mythbusters is doing a Star Wars themed episode, watch a trailer.
Dave Filoni talks about Star Wars: The Clone Wars.
Get two popular Star Wars mobile games at a discount.
Header image: One of PJ McQuade's Star Wars Christmas images via Geek Art.
Along with a new trilogy and TV show, Lucasfilm's purchase by Disney has moved Star Wars into the new millennium. "Star Wars" joined Twitter, Instagram and now has joined Tumblr. Thats the link right there for anyone who wants to follow. And to celebrate, they debuted a brand new piece of concept art from Star Wars Rebels revealing a whole new location in the Star Wars Universe.

Here's the description: "The shadow of the Empire is cast on a major city on Lothal in this previously unseen concept art by Andre Kirk from the upcoming animated series Star Wars Rebels."
We have to wait until December 2015 for Star Wars Episode VII but Disney fans can now make plans to head to Walt Disney World's Star Wars Weekends in 2014. They've announced the dates as follows:
Weekend I: May 16 – 18, 2014
Weekend II: May 23 – 25, 2014
Weekend III: May 30 – June 1, 2014
Weekend IV: June 6 – 8, 2014
Mythbusters comes back to Discovery on January 4 and they're starting with a Star Wars themed episode. Watch the trailer below.
As Dave Filoni continues work on Star Wars Rebels, he's also talking about Star Wars: The Clone Wars, whose final season including bonus episodes, is now on DVD. Head over to StarWars.com for the full interview, but here's one cool quote:
The stories coming out definitely will cause a lot of debate and discussion among fans, which is what good Star Wars stories always do, and I look forward to talking about the stories with them when the time is right.
Two popular Star Wars mobile games are giving fans an early Christmas present. First up, Star Wars: Knights of the Old Republic is now available on all platforms and, for a limited time, is half price. Read more at AppAdvice. Then there's Star Wars: Angry Birds 2, which is free throughout the holidays.
Angry Birds Star Wars 2 will be free on iOS over the holidays, right up until the end of the year. Don't forget! pic.twitter.com/vku7rIoRXE

— Red (@AngryBirds) December 20, 2013