Weinsteins Wouldn't Let 'Snowpiercer' Go To TIFF, Wanted Neil Gaiman-Penned Voiceover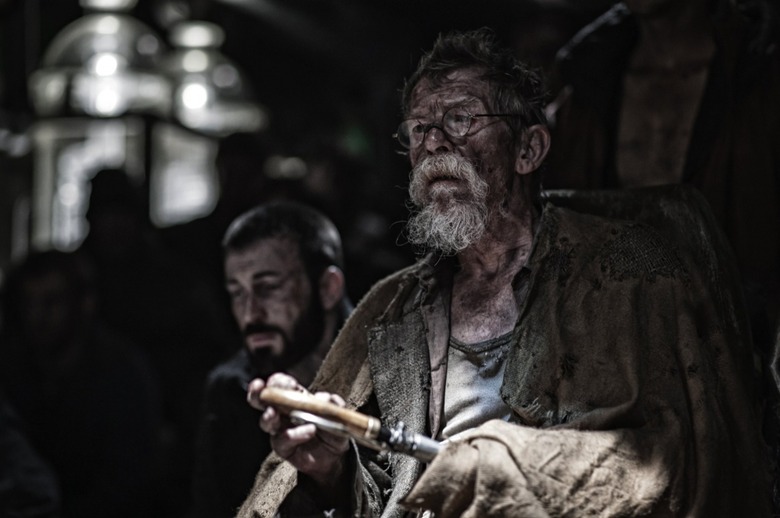 For the past four months, we've been getting worrisome reports about what U.S. distributor The Weinstein Co. is doing to Bong Joon-ho's Snowpiercer. The Weinsteins wanted to chop up the movie, despite great reviews from Korea and France, because they were afraid that "audiences in Iowa and Oklahoma" wouldn't get it. While the director initially assured press that the cuts were "pretty soft," he's since become more vocal about his displeasure.
Today, the most detailed report yet reveals a bit more about the behind-the-scenes struggle between the director and the distributor. Among other things, the Weinsteins blocked the film from playing on the fall festival circuit, and suggested to Bong that he add bookending voiceovers penned by Neil Gaiman. Hit the jump for the latest on this battle.
Foreign film aficionados probably noticed that Snowpiercer was curiously absent on the fall festival circuit, even though its July premiere in Seoul drew rave reviews. According to Bong, that's because the Weinsteins forbade the programmers from seeing the original cut submitted by Korean distributor CJ Entertainment, insisting that the version for English-speaking territories was not yet ready. Thankfully, at least one festival refused to listen — Bong's version will play at the Berlin Film Festival next year.
As for what the Weinsteins had in mind for the movie, they reportedly showed Bong a rough edit of his movie that ran about 25 minutes shorter, eliminated most of the character detail, and played like a more conventional action thriller. They then asked Bong to put together his own streamlined version for Ameircan audiences. For that version, they suggested that he add explanatory voiceovers written by Harvey Weinstein's "friend" Gaiman, but Bong "quickly rejected" the idea.
At present, the dispute is tied up with lawyers from CJ Entertainment and The Weinstein Co. Depending on how long it takes the sides to come to an agreement, it could be a very long time before the film finally hits the U.S. and other English-speaking territories. For now, we can only hope that a warm reception in Berlin will nudge the Weinsteins toward the realization that Snowpiercer should be left intact.