Ellen DeGeneres Dances Her Way Through First Trailer For 2014 Oscars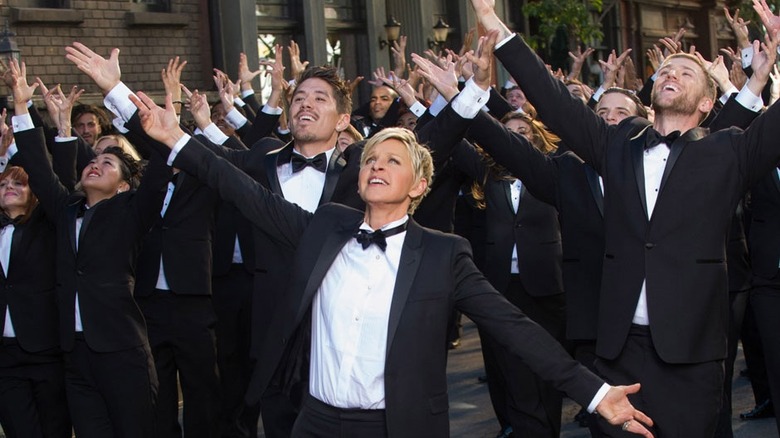 In truth, it's a bit early to be thinking about the Oscars. The awards ceremony isn't for another two and a half months, and nominations won't even be announced for another month. Heck, nominations voting doesn't even begin for another few days. But when the first promo for the event is this charming, it's tough to complain much.
Set to Fitz and The Tantrums' "The Walker," the spot has Oscar host Ellen DeGeneres getting dressed and then sashaying down a studio street with 250 dancers behind her. Paul Feig directed, I suppose because he's currently the go-to guy for anything funny that stars a woman. Hit the jump to watch the trailer.
It's a cute little promo that gets right to the heart of Ellen's appeal. Unlike last year's host, Seth MacFarlane, she's not particularly edgy or controversial, but nor does she feel as stodgy and familiar as the previous pick, Billy Crystal. She's safe enough for the older crowd, but cool enough for the younger crowd. And above all, she's fun, in a sunny, upbeat way.
True, the video doesn't really have anything to do with the magic of movies, but the Oscars are as much about spectacle as about celebrating a year in cinema. Ellen drew some criticism in her last stint as host (2007) for being a bit too low-key, but she had some awesome moments nonetheless. Hopefully this energetic trailer for 2013 portends a lively ceremony.
If you're remotely curious about how the whole thing came together, the Oscars site has a whole page devoted to the spot. Head to oscars.org/herewego to see a making-of video, interviews with Feig and DeGeneres, pictures from the set, and more. We've posted one of the behind-the-scenes images below because Feig is looking dapper in a tuxedo and it just doesn't seem fair that he doesn't get to be on camera with the rest of the penguins.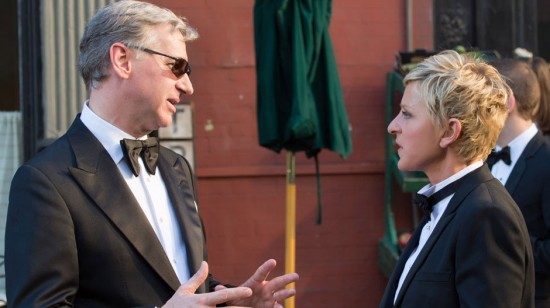 The 86th Academy Awards will take place Sunday, March 2, 2014. Nominations will be announced January 16, 2014.