'Ride Along' Trailer #2: Ice Cube Is Not A Kevin Hart Fan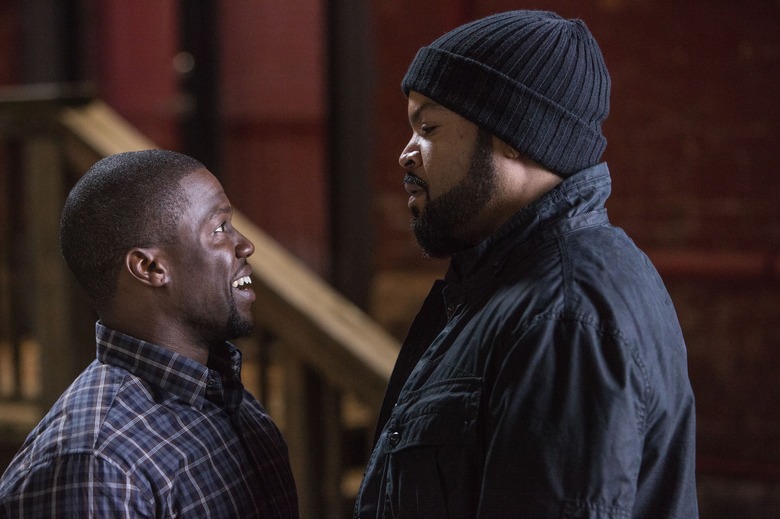 Ice Cube is so good at playing a no-nonsense cop, he'll get to do it in two separate and unrelated movies next year. We got a trailer for one of those, 22 Jump Street, earlier this week. Now the other one, Ride Along, has released a new trailer as well.
The comedy stars Kevin Hart as an aspiring cop who wants to propose to his girlfriend (Tika Sumpter). But before he can do that, he has to get the blessing of her older brother (Ice Cube). Eager to scare him off, Cube invites Hart on a ride-along; equally eager to impress, Hart readily accepts. Then the night spirals crazily, and hopefully hilariously, out of control. Hit the jump to watch the trailer.
The buddy cop comedy isn't a particularly fresh concept, but it's a classic for a reason. Hart and Cube look like an entertaining pair, which is great news for Universal since they've been working on a sequel since this past spring. Directed by Tim Story (Think Like a Man), Ride Along (the first one) opens January 17.
Kevin Hart and Ice Cube lead the lineup in RIDE ALONG, the next comedy from the director of Think Like a Man. When a tough undercover officer's (Cube) future brother-in-law (Hart) joins him on an overnight shift, the wisecracking trainee gets accidentally embroiled in the seasoned cop's latest case. Now, in order to prove that he is worthy of his future bride, he must survive the most insane night of his life. Joining Hart and Cube in the film from Tim Story are John Leguizamo, Tika Sumpter, Bryan Callen and Jay Pharoah. Ice Cube produces alongside Matt Alvarez (Barbershop), Will Packer (Think Like a Man) and Larry Brezner (Good Morning, Vietnam).