'Hannibal' Season 2 Poster Announces February Premiere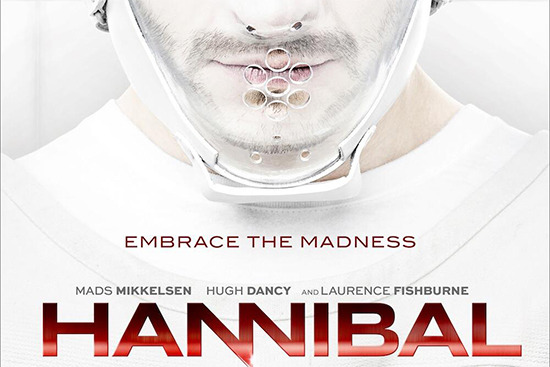 The second season of Hannibal premieres on February 28, and to go with that newly-announced date we've got a new poster for the show. The first season two poster was wild, but this puts FBI profiler Will Graham right into the position most commonly associated with his associate and eventual nemesis, Hannibal Lector (Mads Mikkelsen). That mask is so iconic thanks to The Silence of the Lambs; even this altered version has familiar overtones.
That date means the 13-episode second season will start after the Winter Olympics. Laurence Fishburne returns as Jack Crawford, and Caroline Dhavernas and Hettienne Park co-star. See the full poster below, and get comments from series creator Bryan Fuller about his vision for the grand scope of the show.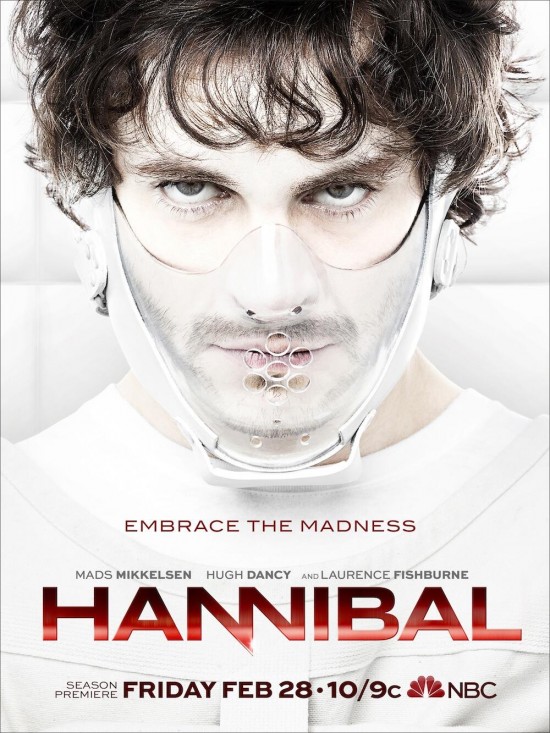 Over the summer, series creator Bryan Fuller laid out plans for the show as he sees it now. From the beginning he's talked about having pitched a sevon-season arc, and when asked about the future of the show after the success of the first season, he told Assignmentx,
I can see pretty clearly seven seasons. I think that there are always shifts and alterations and course corrections that you have to take, because you'll be cruising along and then you'll hit an idea and go, "Oh, wow, that's a great idea, we have to do that now." That being said, I can see the structure for a seven-season arc for the show, but then I also am very open to course corrections along the way to adapt to changes.
...Well, when you get into Season Four, you get into the literature. And so Season Four would be Red Dragon, Season Five would be the The Silence of the Lambs era, Season Six would be the Hannibal era, and then Season Seven would be a resolve to the ending of that book. Hannibal ends on a cliffhanger. ... It might be interesting to resolve that in some way and to bring Will Graham back into the picture. So once we get two more seasons, say, of the television show, those are the aren't-novelized stories, and then we would get into expansions of the novels after that and kind of using the novels as a backbone for season arcs that would then be kind of enhanced.
...It would be about incorporating [Will Graham] in a way that he hasn't been incorporated in the books, because Will Graham was only mentioned in The Silence of the Lambs, he was not seen, and so I would be curious to see what happens to Will Graham after Red Dragon. By the time of Red Dragon, he's married to Molly and has her son from a previous marriage, but doesn't have any children of his own. And then that relationship is more complicated by Francis Dolarhyde and there were suggestions that there was a not-so-happy ending for Will Graham after Red Dragon because he has his face carved up and you wonder what's going to happen to Will now, and I'm curious to see what happens to Will after that.
There's a lot of material there, and a lot that he probably can't use — don't expect to see Clarice Starling, due to rights issues. (Note the use of the word "era" to cover his ass — he's not saying he's going to remake those films, or re-adapt those books, exactly.) And don't be surprised to see a few familiar plot points tweaked or rewritten, assuming things get that far. For now, enjoy the upcoming season of new material, and we'll see where it goes from there.