'Transcendence' Teaser: Johnny Depp Is All Ones And Zeros [Updated With 2nd Teaser]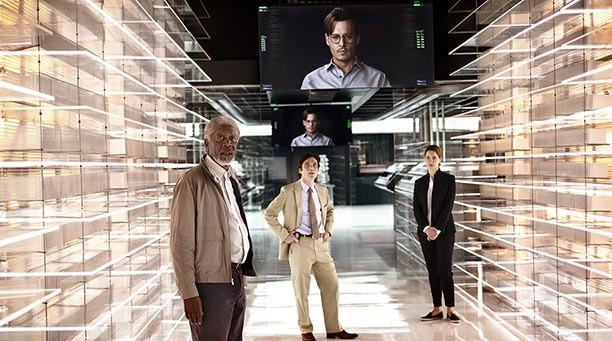 Countless sci-fi movies have explored the possible consequences of the technological singularity, the moment when the machines have officially outpaced the humans who created them. But in Wally Pfister's Transcendence, the first machine to achieve sentience isn't really a machine at all. It's a controversial scientist, played by Johnny Depp.
Dr. Will Caster (Depp) is an AI researcher whose groundbreaking experiments have caught the attention of some angry, anti-tech terrorists. When the bad guys come to destroy him, Caster tries to get away by uploading his own consciousness into a machine — whereupon his innate ambition becomes warped into something far bigger and more terrifying. Watch the first teaser after the jump.
Update: There's a second teaser that features voiceover from Morgan Freeman. We've added it below.
The teaser doesn't show any actual footage from the film, but it does a decent job of laying out its themes. Plus, it gives Depp an opportunity to slip back into yet another weird disguise. Only instead of dead birds and pirate dreads, he's now remade himself into a bunch of ones and zeros.
Update: Here's the second teaser.Rebecca Hall, Paul Bettany, Cillian Murphy, and Morgan Freeman also star in the film. Transcendence opens April 18, 2014.
Dr. Will Caster (Johnny Depp) is the foremost researcher in the field of Artificial Intelligence, working to create a sentient machine that combines the collective intelligence of everything ever known with the full range of human emotions. His highly controversial experiments have made him famous, but they have also made him the prime target of anti-technology extremists who will do whatever it takes to stop him. However, in their attempt to destroy Will, they inadvertently become the catalyst for him to succeed—to be a participant in his own transcendence. For his wife Evelyn (Rebecca Hall) and best friend Max Waters (Paul Bettany), both fellow researchers, the question is not if they can...but if they should. Their worst fears are realized as Will's thirst for knowledge evolves into a seemingly omnipresent quest for power, to what end is unknown. The only thing that is becoming terrifyingly clear is there may be no way to stop him.