New 'The Grand Budapest Hotel' Poster; Second Trailer Arrives Thursday December 19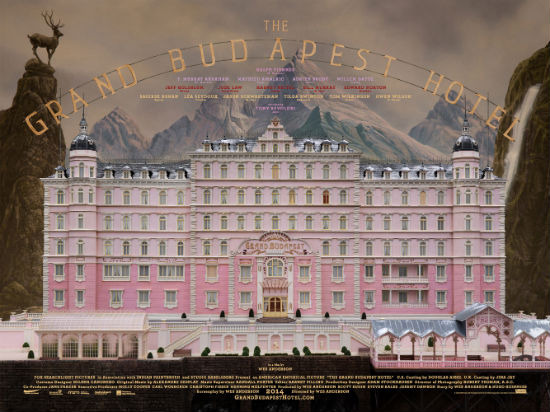 Any "most anticipated of 2014" lists we run here will likely feature Wes Anderson's The Grand Budapest Hotel, which opens in March of next year. Anticipation comes not just based on the fact of a new Anderson movie, but the ensemble cast that always comes with such an endeavor.
This time, it's Ralph Fiennes, Bill Murray, Owen Wilson, Tilda Swinton, Edward Norton, and Saoirse Ronan, for starters, who will wear the meticulously designed, Anderson-approved costumes. You can see them all in a new poster below, in advance of a new trailer tomorrow (Thursday, Dec 19).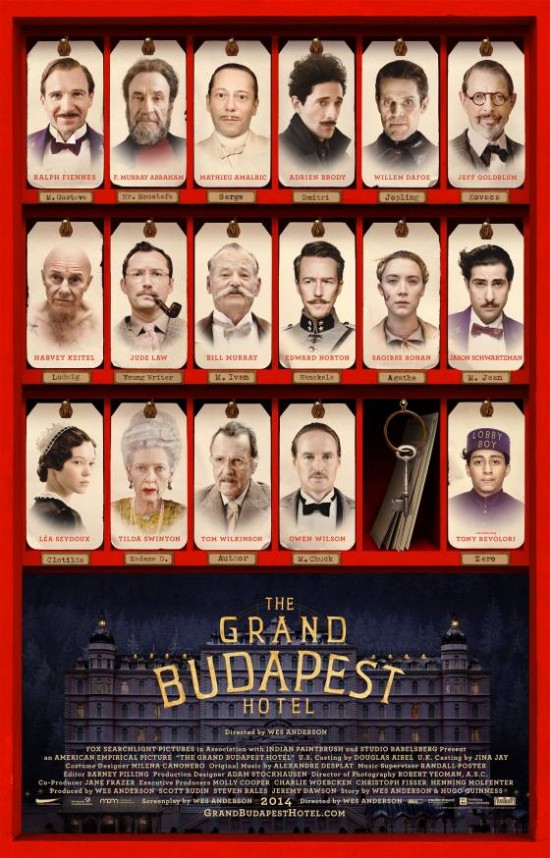 Beyond the cast, there are the particular characteristics of the film itself, which takes place over several time periods and changes film formats as it lands in different decades. Anderson has said that he's pretty well locked into his primary aesthetic, and while this won't exactly change things up — we've already seen him work in a variety of formats and in different shades of his core aesthetic — it may offer some new energy.
And, dammit, the movie just looks fun. Fiennes really sings in the trailer footage.
The Grand Budapest Hotel opens on March 7. Here's the first trailer once more:
THE GRAND BUDAPEST HOTEL recounts the adventures of Gustave H, a legendary concierge at a famous European hotel between the wars, and Zero Moustafa, the lobby boy who becomes his most trusted friend. The story involves the theft and recovery of a priceless Renaissance painting and the battle for an enormous family fortune — all against the back-drop of a suddenly and dramatically changing Continent.
[via Vulture]