Joaquin Phoenix Offered Villain Role In 'Batman Vs. Superman' [Updated]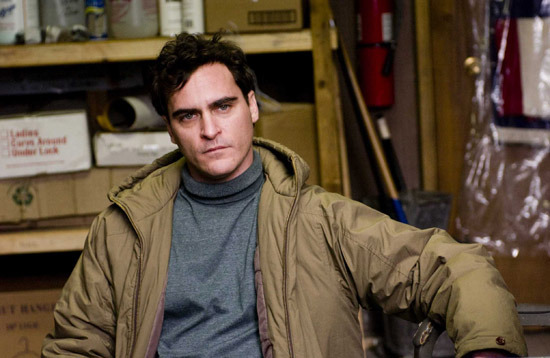 Fresh off working with Warner Bros. on Her, it seems Joaquin Phoenix is being eyed by the studio for the villain role in Zack Snyder's Batman vs. Superman. Variety reports the actors has been offered the lead bad guy rule, believed to be Lex Luthor.
Update: Phoenix is quoted in a new LA Weekly story, expressing his desire to do a blockbuster. Read below.
According to Variety, Phoenix has been offered the role but has yet to accept. He's never been one to do big studio blockbusters and also is reportedly up for a new Gus Van Sant film, Sea of Trees, which seems much more in his wheelhouse. So that puts some big question marks around the possibility of him playing the role. It would be a surprise if he takes the villain job.
What offering the role to Phoenix does, though, is confirm that other actors up for the film, like Jason Momoa, are not in line for the main bad guy role. Phoenix is a whole different breed of actor and his character would obviously be something more prominent, sinister and cerebral. And after the teases in Man of Steel, Luthor is by far the best option.
We'll obviously have much more on this as it develops, but what do you think about Phoenix potentially doing battle with Ben Affleck and Henry Cavill?
Update: After this news broke, many people dismissed it because Phoenix has never exhibited a desire to do blockbuster films. That may have changed, however.
In a new profile by LA Weekly, Phoenix admits he'd do a blockbuster one day. "I love comedies and I love action movies," he said. In particular, he called the new Star Trek films "f***ing brilliant." Here he elaborates:
As long as you're not visibly shaking in front of a camera, anyone could give a great performance with the right script and the right director.....It's even more difficult to stand with a half-made, fake-ass f***ing set with some weird f***ing wig and say a bunch of technical dialogue and not have the benefit of people going, 'Well, this is important work so let's give it its space.' Everyone's going, 'C'mon, jerk-off! Let's do this!'
While that's not him saying, "Yes, I want to be in Batman vs. Superman," it's an acknowledgement he's open to, and even interested in that kind of work.