Theme Park Bits: Real Life 'Jurassic Park,' Fox Theme Park Revealed, Diagon Alley, 'Wreck-It Ralph'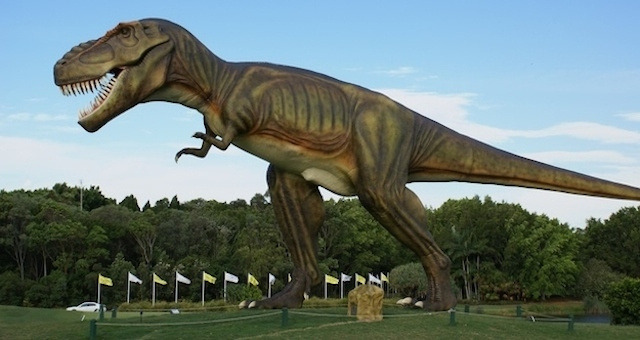 Until we find dinosaur DNA in tree sap, an Australian theme park has created something as close to Jurassic Park as is humanly possible. Read about that, and the following Theme Park Bits, below.
Twentieth Century Fox World is opening in Malaysia.
Check out an image of Harry Potter's Diagon Alley's facade at Universal Studios Orlando.
Wreck-It Ralph hosts New Year's Eve at Disneyland.
The Palmersaurus Dinosaur Park is located in Queensland, Australia and features 160 animatronic dinosaurs ranging from 8 feet to 72 feet in length and up to 33 feet high. All your favorites are there: The T-Rex, Velociraptor, Pterodactyl and more. You can read more on Gizmodo, or watch this video for a brief tour.
20th Century Fox recently revealed their developing their own theme park, called Twentieth Century Fox World, about an hour outside of Kuala Lumpur, Malaysia. Rides will be based on popular properties like Ice Age, Alien vs. Predator, Night at the Museum, Planet of the Apes and more. They're aiming at a 2016 opening and you can read more at the Hollywood Reporter.
Attractions Magazine tweeted the below images of the London facade of Diagon Alley at the new Harry Potter extension at Universal Studios Orlando.
Diagon Alley is lit-up tonight as workers construct the London facade @UniversalORL pic.twitter.com/LD4isxf3YW

— Attractions Magazine (@Attractions) December 17, 2013
Finally, if you're looking for some New Year's Eve theme park plans, and happen to be at Walt Disney World, Wreck-It Ralph is hosting a party. Click here for more info, or here's a poster.