Sequel Bits: 'It's A Wonderful Life 2', 'G.I. Joe 3', 'Expendables 3', '300: Rise Of An Empire'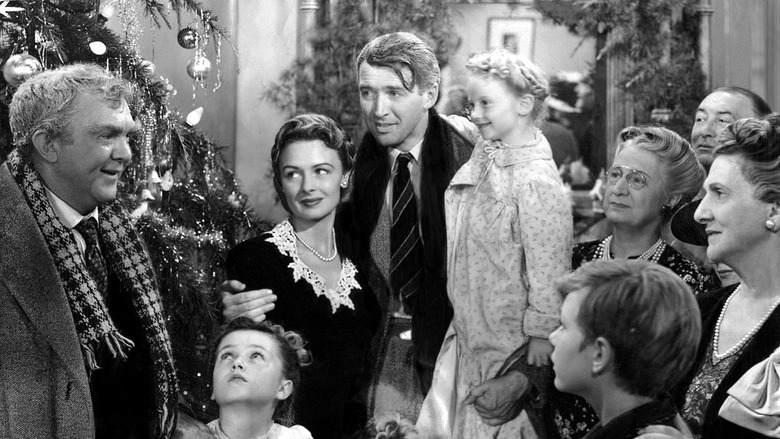 Despite Paramount's objections, the producer for It's a Wonderful Life: The Rest of the Story is confident his project will go forward. Sorry, haters. Also after the jump:
Channing Tatum could still return for G.I. Joe 3...
... and Adrianne Palicki is definitely going to be back
Kellan Lutz had to get smaller for The Expendables 3
Paramount and MGM team up for Hot Tub Time Machine 2
NBC okays a sequel to The Bible (the show, not the book)
Jack O'Connell and Lena Headey get their own 300 posters
You never know. Storm Shadow died in the first one and came back in the second one, and then other characters have died and never come back. The G.I. Joe world, the best thing about it is you never know who's coming back and who's not.
Beyond that, Chu would only say that the characters featured in the threequel would be "exciting ones that I know the fans will love, and people that I've always wanted to work with." Any guesses on whom he's talking about? [MTV]
Meanwhile, Tatum's G.I. Joe: Retaliation co-star Adrianne Palicki confirms that she's definitely back as Lady Jaye for G.I. Joe 3. What's more, we could soon see her in a bunch of other action movies, since she claims her work in G.I. Joe: Retaliation has led to her getting a bunch of similar scripts.
I think it's hard to find females who can do the action stuff and I think that when people see somebody... there are only like three or four [actresses] who are in all that stuff, because it's like once people see that they can do it, they put them in a lot of things. So yes, I definitely get a lot of scripts for action films. Which is awesome, because I love doing it. I love doing my own stunts. I'm one of those crazy people, but it's a fine line because you don't want to get pigeonholed. That's why I try to do comedies or even a little independent film, just to stay above board. To keep it real, and to keep me from getting injured once in a while! I'm 30 and I feel like I'm 57 years old!
One of her previous forays into action, David E. Kelley's Wonder Woman pilot, didn't go so well, but she now has her sights on another superheroine. "I'm waiting for Supergirl," she said with a smile. [IGN]
While most actors have to bulk up for action movies, Kellan Lutz has had the opposite problem: he was already too big for The Expendables 3.
You're working with all these guys, all these iconic legends and I'm taller than most of them. So I'm trying to slouch in pictures, trying to honor them and not stand out. Even Sly's like [in Stallone voice], 'Stop working out.' I'm like, 'Yes, sir!' I'm skinny now because of Expendables. I didn't want anyone to get mad at me.
So if he looks only pretty ripped on the Hercules press tour instead of totally ripped, blame that short wimp Stallone. The Expendables 3 opens August 15, 2014. [Movies With Butter]
Paramount did not seem so pleased with last month's news that a sequel to It's a Wonderful Life was in the works. Nevertheless, It's a Wonderful Life: The Rest of the Story producer/co-writer Bob Farnsworth says he's "not concerned," and that he expects the studio to come around.
Well, the whole Paramount thing is something that we will definitely be speaking with them or anyone who would come forward with any questions about this whole thing. And it will not be in the spirit of fighting anybody, it will be in the spirit of 'show us what concerns you' and, if they're legitimate concerns, obviously we [will] work together in some way.
Lest you think this is one of those "gritty reboots" studios are always talking about, Farnsworth assures fans that the sequel will have a happy ending. "[T]he answer is absolutely, yes," he said. "They would shoot us if it didn't have a happy ending." Assuming something can be worked out with Paramount, filming is expected to begin in Louisiana and Seneca Falls, N.Y. next year for a Holiday 2015 release. [Syracuse.com via Geoff Herbert]
The Bible doesn't really come with a built-in sequel, but NBC is going to try and make one happen anyway. The network has formally greenlit a twelve-hour miniseries titled A.D., intended as a follow-up to History Channel's The Bible mini-series from earlier this year.
"You might think the story is over at the Crucifixion, but as most of the world knows, that was only the beginning," said NBC Entertainment president Jennifer Salke. Mark Burnett and Roma Downey will return to produce, while Simone Block will write the script. The series is expected to air sometime in spring 2015. [Deadline]
Paramount and MGM are teaming up for a good cause: the release of Hot Tub Time Machine 2. The former will distribute theatrically and on home video worldwide, while the latter will handle select international territories.
Director Steve Pink returns for the sequel, along with stars Rob Corddry, Craig Robinson, and Clark Duke. Adam Scott fills the gap left by John Cusack, who won't reprise his role. The story follows the gang attempting to travel back in time once more, only to find themselves in the future. No U.S. premiere date has been announced. [Variety]
300: Rise of an Empire promises to be full of fierce characters, and now a couple of them have gotten their very own character posters. Below, see Lena Headey as Queen Gorgo, Spartan wife of King Leonidas, and Jack O'Connell as Calisto, apparently a bloodthirsty warrior with a predilection for Johnny Depp-style makeup.
300: Rise of an Empire lands March 7, 2014. Look for posters of Themistocles (Sullivan Stapleton), Xerxes (Rodrigo Santoro), and Artemisia (Eva Green) to land before then.