'Blended' Trailer: Adam Sandler And Drew Barrymore Head On African Safari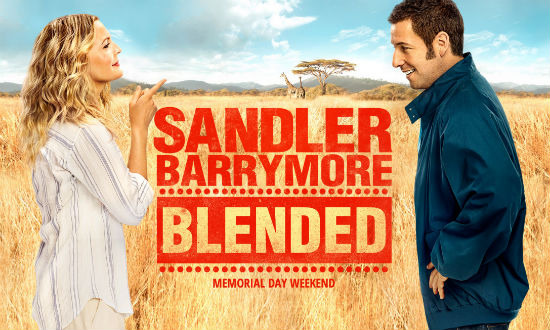 First was The Wedding Singer, then 50 First Dates, now Adam Sandler and Drew Barrymore team up once again for another Hollywood romantic comedy. This one is called Blended and it's scheduled for release May 23. Directed by frequent Sandler collaborator Frank Coraci, Blended tells the story of two people who go on a terrible blind date, then find themselves on vacation together on African safari.
The trailer for the comedy just came out, and you can watch it below.
Here's the trailer for Blended.
Blended looks like a movie made as an excuse to go on vacation. The hyper-stretch plot of two people who randomly find out a vacation is up for grabs, then both go, is bad enough. From there, the jokes all look unimaginative, predictable and awkwardly slap-stick. Nothing about the movie feels imaginative or interesting, except the setting, and that's probably the point. Unfortunately for Drew Barrymore, Blended feels much more like the new Adam Sandler (Grown Ups, Jack and Jill) than the one who made solid films with her in the past.
Let us know what you think about the trailer below. Here's the official plot description:
"Blended" marks the third comedy collaboration between stars Adam Sandler and Drew Barrymore, following their successful onscreen pairings in the hit romantic comedies "50 First Dates" and "The Wedding Singer."
After a disastrous blind date, single parents Lauren (Barrymore) and Jim (Sandler) agree on only one thing: they never want to see each other again. But when they each sign up separately for a fabulous family vacation with their kids, they are all stuck sharing a suite at a luxurious African safari resort for a week.
"Blended" also stars Joel McHale (NBC's "Community") as Lauren's ex-husband, Mark, and Wendi McLendon-Covey ("Bridesmaids") as her best friend, Jen; Kevin Nealon ("Weeds") and Jessica Lowe (funnyordie's "RobotDown") as an overly romantic couple also vacationing at the resort; Terry Crews ("The Expendables 2") as the resort's singing host; and Dan Patrick (ESPN SportsCenter) as Dick.
Playing the kids are: Bella Thorne of Disney Channel's "Shake it Up," Emma Fuhrmann and Alyvia Alyn Lynd as Jim's daughters; and Kyle Red Silverstein and Braxton Beckham as Lauren's sons.
"Blended" is directed by Frank Coraci, who previously collaborated with Sandler and Barrymore on "The Wedding Singer" and also directed Sandler in the hit comedies "The Waterboy" and "Click." The screenplay is by Ivan Menchell & Clare Sera. The film is produced by Mike Karz, Adam Sandler and Jack Giarraputo, with Barry Bernardi, Josie Rosen, Tim Herlihy, Allen Covert and Steven Koren serving as executive producers.
Collaborating with Coraci behind the scenes are director of photography Julio Macat ("Pitch Perfect"), production designer Perry Andelin Blake ("Here Comes the Boom"), editor Tom Costain ("Grown Ups") and costume designer Christine Wada ("Bridesmaids").
"Blended" was filmed predominantly on location in South Africa.
Slated for release on May 23, 2014, "Blended" is a Warner Bros. Pictures presentation of a Gulfstream Pictures/Happy Madison Production and will be distributed by Warner Bros. Pictures, a Warner Bros. Entertainment company.