Star Wars Bits: 'Attack Squadrons' And '1313' Video Games, Benedict Cumberbatch, Tons Of New Art Work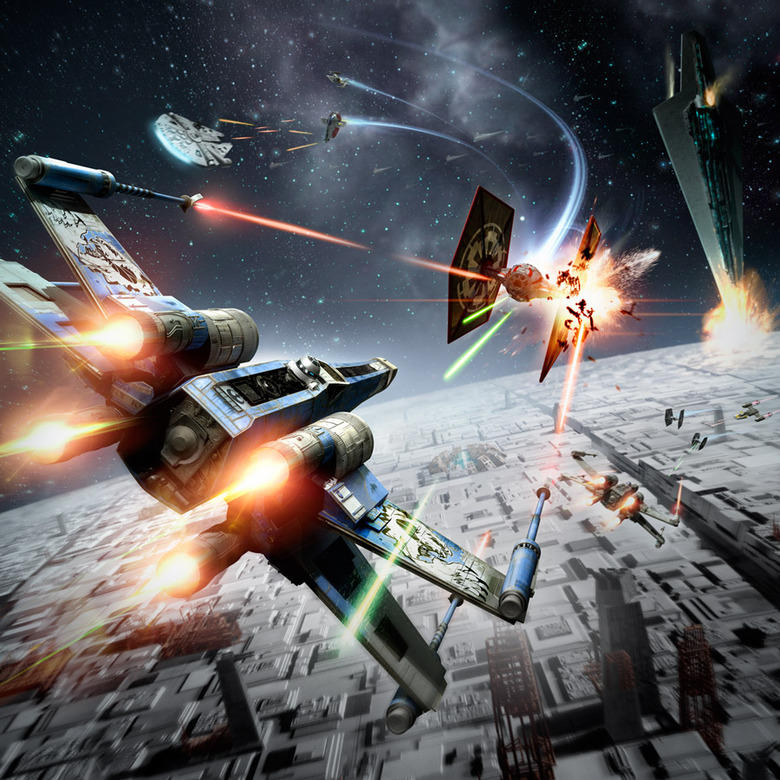 This edition of Star Wars Bits is all about the visuals. There's art, video games, and the jawline of Benedict Cumberbatch. Below read about the following.
A new Disney Interactive Star Wars game, Star Wars: Attack Squadrons, will be released online in early 2014. Watch a trailer below.
The full demo for Star Wars 1313 is now online.
Benedict Cumberbatch continues to joke about wanting to be in Star Wars Episode VII.
A Seattle art gallery has a full Star Wars exhibit.
Check out how two different artists portrayed the original trilogy in very different ways including arcade games.
The official Star Wars website revealed a new online game called Star Wars Attack Squadrons is coming in 2014. It's an online game that will allow you to fly, and modify, your favorite Star Wars starships. That's an image at the top of the article and below is a trailer. You can sign up to beta test at this link: www.starwars.com/attacksquadrons.
Months before Benedict Cumberbatch was rumored to be a part of Star Wars Episode VII, we ran an article where he was quoted talking about lobbying J.J. Abrams for a part in the film. He was joking about getting a role as a light saber, and Comic Book reports that on a recent episode of Conan, Cumberbatch went back to that story. Here it is again:
I just sort of would leave casual messages on his phone as a light saber. I thought he thought he was getting bad cell reception or something. Then, I even went on a chat show and auditioned for Chewbacca. I sat next to Harrison Ford and did my audition.
Back to Star Wars video games, Comic Book Movie found the full E3 demo for Star Wars 1313 online. This was an older version of the game but a lot of this footage has never been seen before. (And may never be seen again; while the game could get new life at an outside studio after the closure of LucasArts, it might not look like this.)
The Ltd. Art Gallery in Seattle just closed their annual annual Star Wars themed art show but, thanks to the magic of the internet, we can still check it out on their website. Here is just a small sampling of the awesome pieces. Head to the previous link to see them all.
Two other sites have very interesting and unique takes on the Star Wars trilogy as art as well. First, Acme Direct has a super cool "Arcade" series by Christian Slade. You can read about all of these arcade game inspired prints, and buy them, at this link.
Then, Blurppy writes about Micro Zett's impressive, minimalist take on the Star Wars Trilogy. You can buy them here.