'The Double' Trailer: Jesse Eisenberg Is His Own Worst Enemy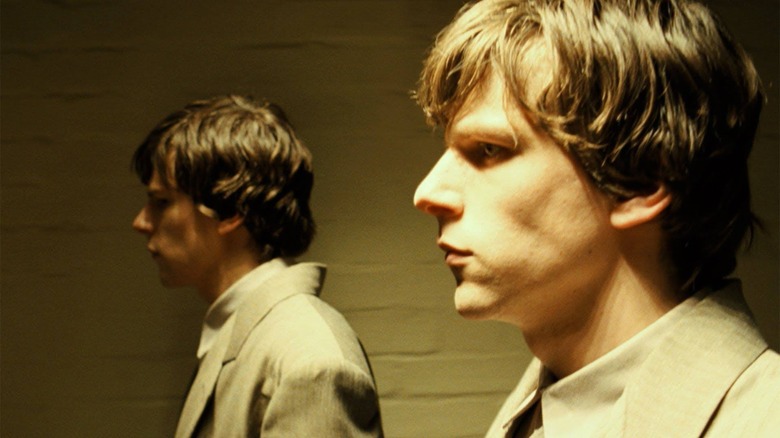 Richard Ayoade has come a long way from the days when he was known primarily to Brit comedy nerds as ubergeek Maurice Moss from The IT Crowd. He wowed TIFF in 2010 with his feature directing debut Submarine, and returned to the festival earlier this year to earn still more buzz with his sophomore effort, The Double.
Based on the novella by Fyodor Dostoevsky, the surreal comedy follows meek, overlooked office worker Simon James (Jesse Eisenberg), whose life is complicated by the appearance of his doppelganger James Simon (also Eisenberg). Identical to Simon in every way, only far more confident, charismatic, and ruthless, James swoops in and starts taking everything Simon wants but can't have: the esteem of his colleagues, the affections of his office crush (Mia Wasikowska), and so on.
The new trailer has just arrived, and you can see it after the jump.
TIFF reactions for The Double ranged from warm to glowing. Comparisons to Terry Gilliam's Brazil were frequent, thanks to the movie's soulless corporate setting, and Eisenberg was widely praised as the perfect choice to play both nebbishy Simon and cocky James. (As Matt Goldberg of Collider pointed out, the dual role "smashes together Eisenberg's two most famous personas: the uptight, timid Eisenberg as seen in Zombieland and voiced in Rio, and the super-confident, condescending Eisenberg as seen in The Social Network and Now You See Me.")
One of the movie's strongest supporters was The Playlist's Kevin Jagernauth, who raved that Ayoade was "one of the brightest rising talents behind the camera" and that his new movie was "special and singular filmmaking at its best. Somewhat less enthusiastic was The Telegraph's Tim Robey, who found that it was "a film for Ayoade connoisseurs, then, but not one to win him new fans."
If you're a fan of Ayoade, the good news is that Magnolia has already picked up The Double for U.S. distribution. The bad news is that they have yet to announce a release date.