Early Buzz: Lars Von Trier's 'Nymphomaniac' Is An Intellectual, Not Sexual, Turn-On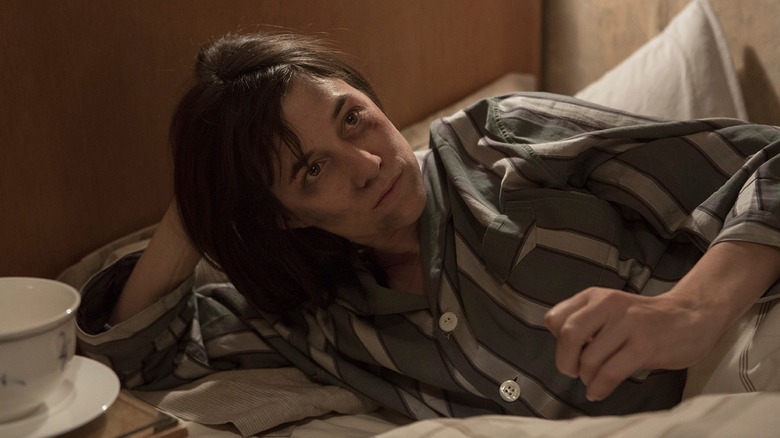 Lars von Trier's Nymphomaniac has attracted a lot of attention, that's for sure, but is it actually good enough to sustain that attention? Happily for his fans, the answer seems to be a resounding yes. Reviews have begun trickling out of Europe, where the film opens later this month, and so far the consensus is that — for all the hubbub about its hardcore sex scenes — it's more of an intellectual stimulation than a sexual one.
To be clear, the reviews are all for the two-part, four-hour edit of the movie, not the five-and-a-half-hour director's cut that von Trier favors. The former is the version that'll hit theaters around the world; when, where, and how the latter version will be released remains unclear. For now, though, it seems the four-hour cut is perfectly satisfying on its own. Reviewers remarked that the film feels pretty complete as it is, and one stressed that regardless of whether von Trier had the final say, "Nymphomaniac couldn't have been made by anyone else"
Hit the jump to read the early buzz.
With his sexually explicit, four-hour magnum opus, "Nymphomaniac," world cinema's enfant terrible Lars von Trier re-emerges as its dirty-old-man terrible, delivering a dense, career-encompassing work designed to shock, provoke and ultimately enlighten a public he considers altogether too prudish. Racy subject aside, the film provides a good-humored yet serious-minded look at sexual self-liberation, thick with references to art, music, religion and literature, even as it pushes the envelope with footage of acts previously relegated to the sphere of pornography. Even so, in this cut of "Nymphomaniac," the only arousal von Trier intends is of the intellectual variety, making this philosophically rigorous picture — which opens abroad on Dec. 25 and domestically in two parts, on March 21 and April 18 — a better fit for cinephiles than the raincoat crowd.
THR:
A dour modern Scheherazade keeps her interlocutor up all night telling him about a few of what might well be a thousand and one men in Nymphomaniac. Lars von Trier's two-part, four-hour sexual epic has been the subject of endless speculation since the perennial controversy hound began signing up name actors for what he advised would be a hard-core account of a very active woman's sexual life. It is that, although less so than many might have imagined or hoped for. Still, it is never boring and does provoke and stimulate, although not as a turn-on, not remotely. At its core the film represents an intellectual male artist's arduous, wayward, idiocentric, blunt, naughty-boy attempt to address Freud's famous question: "What does a woman want?"
If Lars likes it, it's in here, from fly fishing to Bach, ash trees and fibonacci numbers (don't worry, it's explained). If that sounds boring, the shaggy-dog nature of the story is deceptively compelling, with the characters frequently commenting on its implausibilities and weaknesses. In this way, Nymphomaniac is the purest Von Trier movie yet, in the sense that there is no Brechtian narrative to hide behind – the framing device might as well be Von Trier having a conversation with himself, the bookish, left-leaning polymath trying to come to terms with his reckless, anarchic and sometimes self-destructive alter ego.
The Guardian (four out of five stars):
How was it for you? How was it for me? Nymphomaniac doesn't care. It goes about things its own way, in the service of its own pleasure, manhandling the audience from one position to the next, occasionally snickering at its own private jokes and daring us to decipher them. Personally I found this a bruising, gruelling experience and yet the film has stayed with me. It is so laden with highly charged set pieces, so dappled with haunting ideas and bold flights of fancy that it finally achieves a kind of slow-burn transcendence. Nymphomaniac annoys me, repels me, and I think I might love it. It's an abusive relationship; I need to see it again.
Time Out London (four out of five stars):
There's plenty of flesh (much of it belonging to porn doubles), although the film is rarely, if ever, what most people would call erotic or pornographic. It's neither deeply serious nor totally insincere; hovering somewhere between the two, it creates its own mesmerising power by floating above specifics of time and place, undercutting its main focus with bizarre digressions (fly-fishing, maths, religion), a ragbag of acting styles and archive footage. There's humour too, not least when the wife (Uma Thurman) of one of Joe's lovers turns up at Joe's flat with her three young kids in tow. Enormous penises flash across the screen; tragedy sits next to comedy. It feels like an X-rated farce, a circus of genitalia.
Indiewire (B+):
While 90 minutes shorter than the version von Trier himself has made (rather than the "abridged and censored" version that hits Danish theaters Christmas Day ahead of its 2014 U.S. release), as it stands, "Nymphomaniac" is indeed a major work that tries and, to a large extent, succeeds to organically synthesize the world, ideas and filmmaking savvy of von Trier in one sprawling and ambitious cinematic fable. Somewhat shockingly given the subject matter, the most stimulating material in "Nymphomaniac" isn't the explicit sex but how sexuality is discussed and understood.
Little White Lies (four out of five stars):
Forget the headline-grabbing sexploitation-based marketing images that have been gleefully circulated online. The slimline version (two times two-hour volumes instead of the director's preferred five-and-a-half hour cut) of Lars von Trier's digressive, character-driven odyssey may show a lot of naked fun times, but it is more deeply concerned with loneliness, self-loathing and what becomes of a person whose behaviour takes them beyond the limits of polite society.
In the U.S., Nymphomaniac: Part One lands March 6, 2014 on VOD and March 21, 2014 in theaters, while Nymphomaniac: Part Two arrives on VOD April 3, 2014 and in theaters April 18, 2014.