International 'Amazing Spider-Man 2' Trailer Features New Footage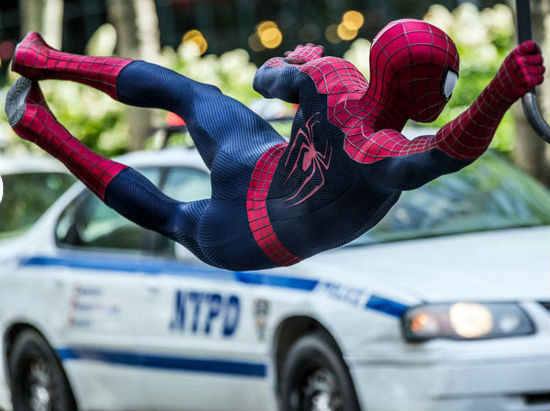 The first trailer for The Amazing Spider-Man 2 was all about the expanding universe Marc Webb was creating with the sequel. Three villans and counting are going to be a problem for Peter Parker (Andrew Garfield). Plus, if that wasn't enough, he's still got to deal with the regular people in his life, too.
A German trailer for the film just came online and has a lot more footage, mostly related to Peter's relationships with Aunt May (Sally Field) and Gwen Stacy (Emma Stone). Check it out below.
Thanks to Screencrush for the heads up.
That last bit with Gwen screaming Peter's name could be a problem, no?
The more human side of Spider-Man is infinitely more interesting to me than the CGI battles. So this trailer, even though I couldn't understand one word, actually warmed me up to the film. Which is good, considering the plans Sony has for this series in the future. Read more about that madness here.
The Amazing Spider-Man 2 opens on May 2, 2014, with Andrew Garfield, Emma Stone, Jamie Foxx, Dane DeHaan, Colm Feore, Paul Giamatti, Sally Field, Chris Cooper, B.J. Novak and Sarah Gadon.
In The Amazing Spider-Man 2, for Peter Parker (Andrew Garfield), life is busy – between taking out the bad guys as Spider-Man and spending time with the person he loves, Gwen (Emma Stone), high school graduation can't come quickly enough. Peter hasn't forgotten about the promise he made to Gwen's father to protect her by staying away – but that's a promise he just can't keep. Things will change for Peter when a new villain, Electro (Jamie Foxx), emerges, an old friend, Harry Osborn (Dane DeHaan), returns, and Peter uncovers new clues about his past.