'The Legend Of Hercules' Trailer: Kellan Lutz Faces His Destiny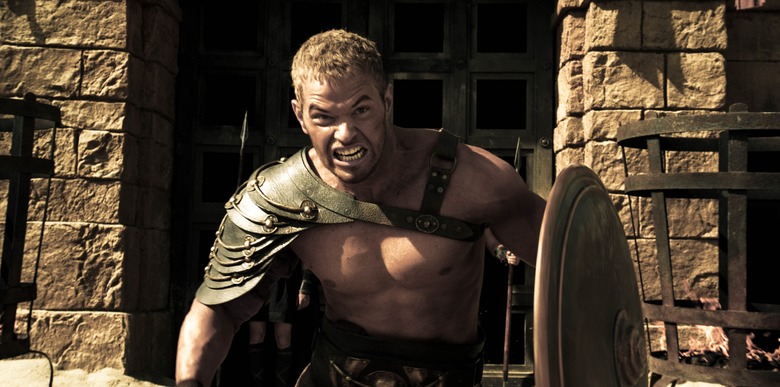 It remains to be seen which of the two Hercules movies due out next year will emerge victorious from the blood-stained arena that is the global box office. But in the race to put out a whole bunch of trailers, The Legend of Hercules is beating Brett Ratner and Dwayne Johnson's Hercules by a very comfortable margin.
Summit has just released the third trailer for the sword-and-sandal epic, which was directed by Renny Harlin and stars Kellan Lutz as the half-god hero. The results are, well, about what you'd expect. Watch it after the jump.
Like the other promos before it, this one makes the wise decision to have Lutz say and do as little as possible. The Twilight alum certainly looks the part of a brave, romantic warrior, but the illusion cracks every time he's called upon to emote, and shatters every time he opens his mouth. There's only so much his co-stars — which include Scott Adkins, Liam McIntyre, Liam Garrigan, Jonathan Schaech, Roxanne McKee, Gaia Weiss, and Rade Serbedzija — can do to support him.
I'd even go so far as to say that The Legend of Hercules serves a a perversely effective advertisement for Hercules, since the latter can't help but look good in comparison. But the former does have one major advantage: It hits theaters much, much sooner. The Legend of Hercules opens January 10, and Hercules on July 25.
In the epic origin story THE LEGEND OF HERCULES, Kellan Lutz stars as the mythical Greek hero – the son of Zeus, a half-god, half-man blessed with extraordinary strength.  Betrayed by his stepfather, the King, and exiled and sold into slavery because of a forbidden love, Hercules must use his formidable powers to fight his way back to his rightful kingdom.  Through harrowing battles and gladiator-arena death matches,Hercules embarks on a legendary odyssey to overthrow the King and restore peace to the land.