Sequel Bits: '300: Rise Of An Empire', '22 Jump Street', 'The Rundown 2', 'Human Centipede 3'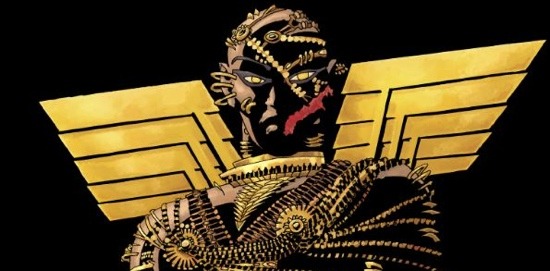 How often do you get to jump from Hotel Transylvania 2 to The Human Centipede 3 (Final Sequence) in just a few lines? After the jump:
The Inbetweeners Movie 2 adds a Pitch Perfect star
Peter Berg wants to do The Rundown 2 with Dwayne Johnson
Frank Miller's Xerxes won't arrive in time for the 300 premiere
Read the updated synopsis for 22 Jump Street
Watch a new set video from Transformers: Age of Extinction
Hotel Transylvania 2 gets some promotional art
And so does The Human Centipede 3 (Final Sequence)
Leaked art from the new Alien game teases Ripley's kid, maybe
The sequel to the 2011 coming-of-age comedy — which in turn was based on an E4 sitcom — follows the gang as they set out on a new trip. (The last film had them traveling to Crete.) Along the way, they meet several new folks, including rich, entitled Ben (Stroma). [Deadline]
Peter Berg may have decided against a Friday Night Lights movie, but he's still got his fingers crossed for a The Rundown sequel. "I really want to do it," he said. "I've talked to Dwayne [Johnson]. I have an actor in mind that I can't say that I want to work with Dwayne on it, and we want to do it."
And this isn't just idle chatter. "Yeah, we're meeting with writers now," he added. While the 2003 original wasn't a box office hit, it garnered positive reviews and has attracted a following on DVD. [Collider via JoBlo]
Zack Snyder's 300 is finally getting a follow-up next year, but Frank Miller's source material is not. Though Miller has been working on a new comic book, Xerxes, for some time, it hasn't progressed since he turned in the first two issues back in 2011, and won't be ready in time for the 300: Rise of an Empire release in March.
Apparently, Miller's been too busy with his many other projects, including his co-directing work on Sin City: A Dame to Kill For. But he still "has every intention of returning to the remaining Xerxes issues when his Hollywood commitments are complete," so just keep patient. [ICv2 via Bleeding Cool]
Having survived high school a second time, Schmidt (Jonah Hill) and Jenko (Channing Tatum) will be heading to college in 22 Jump Street. And that new setting will bring some new challenges along with it. Here's the latest official synopsis:
After making their way through high school (twice), big changes are in store for officers Schmidt (Jonah Hill) and Jenko (Channing Tatum) when they go deep undercover at a local college. But when Jenko meets a kindred spirit on the football team, and Schmidt infiltrates the bohemian art major scene, they begin to question their partnership. Now they don't have to just crack the case – they have to figure out if they can have a mature relationship. If these two overgrown adolescents can grow from freshmen into real men, college might be the best thing that ever happened to them.
Phil Lord and Chris Miller are directing the comedy sequel, which opens June 13, 2014. [Sony]Entertainment Tonight Canada has posted a couple of new pics from the set of Transformers: Age of Extinction, which include video interviews with stars Mark Wahlberg and Nicola Peltz.
The stars reiterate a lot of the same things we've heard before — Wahlberg pretends to know nothing about Dinobots, Peltz feels "very lucky" to work with Wahlberg, that kind of stuff — but the clips do offer a look at the action from a slightly different perspective.
Transformers: Age of Extinction opens June 27, 2014. [via TFW2005]
It's been a year since Hotel Transylvania 2 was announced, and now Sony has a new bit of promo art to share from it. And I do mean "bit," because it's tiny.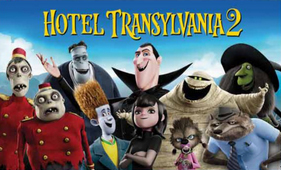 The bad news is that this image tells us nothing new about the movie. The good news is that all of its characters look just as cute as they did the first time. Hotel Transylvania 2 opens September 25, 2015. [Collider]
On a much less adorable note, we also have teaser art from The Human Centipede 3 (Final Sequence). The centipedes are not so pleasant to look at, but considering the premise of the movie we should probably just be grateful that this poster isn't more repulsive.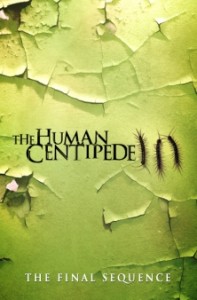 The Human Centipede 3 (Final Sequence) is expected to open next year, after which we can all just close the book on that whole chapter of cinematic history and start trying to forget we ever learned the concept of a "human centipede" to begin with. [Shock Till You Drop]
We recently got word that the sequel to the video game Aliens: Colonial Marines could focus on Ellen Ripley's daughter, and now some leaked art shows a tough-looking woman in a spacesuit. Amanda Ripley, is that you?
Alien: Invasion is reportedly a first-person shooter centering on Amanda and her struggle to survive in a space station. [OXM via io9]