'12 Years A Slave', 'Breaking Bad' Lead 2013 Screen Actors Guild Nominations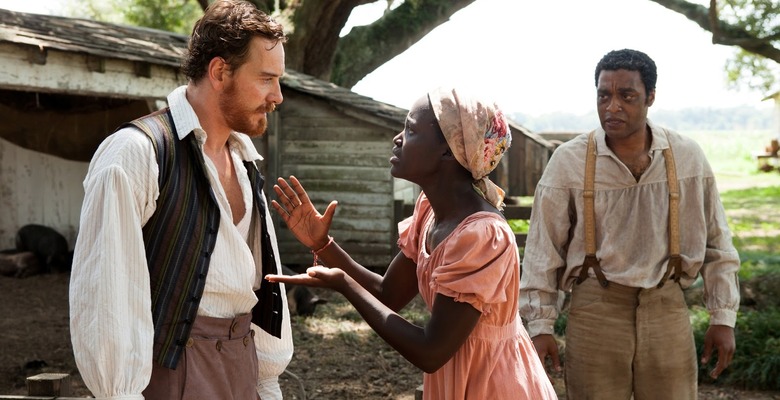 Ah, December: The month when all the awards buzz that's been circulating throughout the year starts to solidify into actual nominations. 12 Years a Slave has been considered a strong favorite to win the season since moment it premiered at Telluride, and this morning the Screen Actors Guild threw their support of the slavery drama by nominating four times over.
August: Osage County, Lee Daniels' The Butler, and Dallas Buyers Club made strong showings as well, with three nominations each. On the TV side, Breaking Bad proved itself the show to beat, with three. Hit the jump to read all the names.
The nominations list contains a few nice surprises. It's great to see, for example, that the guild has made room for Captain Phillips' Barkhad Abdi and Rush's Daniel Brühl in a crowded field.
On the flip side, it's disappointing that Oscar Isaac and Brie Larson have apparently gone unnoticed by SAG, despite their stellar performances in Inside Llewyn Davis and Short Term 12, respectively. All Is Lost, The Wolf of Wall Street, and Saving Mr. Banks also failed to garner recognition for their strong casts. (Well, just Robert Redford in the case of All Is Lost.)
Perhaps the biggest shocker from the TV side is the omission of Mad Men, though star Elisabeth Moss did manage to snag a well deserved nomination for Top of the Lake. The Emmy-nominated Girls was snubbed yet again, and acclaimed new shows like Orange Is the New Black and Masters of Sex were sadly unable to gain any traction.
Theatrical Motion PicturesOutstanding Performance by a Male Actor in a Leading Role
Bruce Dern, Nebraska
Chiwetel Ejiofor, 12 Years a Slave
Tom Hanks, Captain Phillips
Matthew McConaughey, Dallas Buyers Club
Forest Whitaker, Lee Daniels' The Butler
Outstanding Performance by a Female Actor in a Leading Role
Cate Blanchett, Blue Jasmine
Sandra Bullock, Gravity
Judi Dench, Philomena
Meryl Streep, August: Osage County
Emma Thompson, Saving Mr. Banks
Outstanding Performance by a Male Actor in a Supporting Role
Barkhad Abdi, Captain Phillips
Daniel Brühl, Rush
Michael Fassbender, 12 Years a Slave
James Gandolfini, Enough Said
Jared Leto, Dallas Buyers Club
Outstanding Performance by a Female Actor in a Supporting Role
Jennifer Lawrence, American Hustle
Lupita Nyong'o, 12 Years a Slave
Julia Roberts, August: Osage County
June Squibb, Nebraska
Oprah Winfrey, Lee Daniels' The Butler
Outstanding Performance by a Cast in a Motion Picture12 Years a SlaveAmerican HustleAugust: Osage CountyDallas Buyers ClubLee Daniels' The ButlerTelevision ProgramsOutstanding Performance by a Male Actor in a Television Movie or Miniseries
Matt Damon, Behind the Candelabra
Michael Douglas, Behind the Candelabra
Jeremy Irons, The Hollow Crown
Rob Lowe, Killing Kennedy
Al Pacino, Phil Spector
Outstanding Performance by a Female Actor in a Television Movie or Miniseries
Angela Bassett, Betty & Coretta
Helena Bonham Carter, Burton and Taylor
Holly Hunter, Top of the Lake
Helen Mirren, Phil Spector
Elisabeth Moss, Top of the Lake
Outstanding Performance by a Male Actor in a Drama Series
Steve Buscemi, Boardwalk Empire
Bryan Cranston, Breaking Bad
Jeff Daniels, The Newsroom
Peter Dinklage, Game of Thrones
Kevin Spacey, House of Cards
Outstanding Performance by a Female Actor in a Drama Series
Claire Danes, Homeland
Anna Gunn, Breaking Bad
Jessica Lange, American Horror Story: Coven
Maggie Smith, Downton Abbey
Kerry Washington, Scandal
Outstanding Performance by a Male Actor in a Comedy Series
Alec Baldwin, 30 Rock
Jason Bateman, Arrested Development
Ty Burrell, Modern Family
Don Cheadle, House of Lies
Jim Parsons, The Big Bang Theory
Outstanding Performance by a Female Actor in a Comedy Series
Mayim Bialik, The Big Bang Theory
Julie Bowen, Modern Family
Edie Falco, Nurse Jackie
Tina Fey, 30 Rock
Julia Louis-Dreyfus, Veep
Outstanding Performance by an Ensemble in a Drama SeriesBoardwalk EmpireBreaking BadDownton AbbeyGame of ThronesHomelandOutstanding Performance by an Ensemble in a Comedy Series30 RockArrested DevelopmentThe Big Bang TheoryModern FamilyVeepStunt EnsemblesOutstanding Action Performance by a Stunt Ensemble in a Motion PictureAll Is LostFast & Furious 6Lone SurvivorRushThe WolverineOutstanding Action Performance by a Stunt Ensemble in a Comedy or Drama SeriesBoardwalk EmpireBreaking BadGame of ThronesHomelandThe Walking DeadScreen Actors Guild 50th Annual Life Achievement Award
Rita Moreno